WHALE TANKERS' first deep-lifting blower/vacuum tanker, the KiloWhale, has been
21st December 1985
Page 15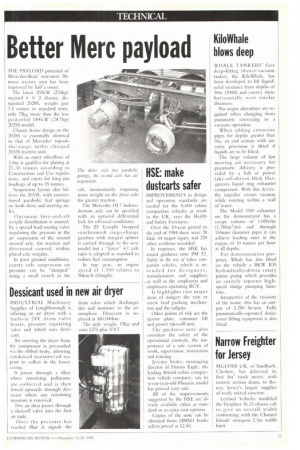 Page 15, 21st December 1985 —
WHALE TANKERS' first deep-lifting blower/vacuum tanker, the KiloWhale, has been
Close
developed to lift liquid/ solid mixtures from depths of 30m (l(U)ft) and convey them horizontally over similar distances.
No major alterations are required when changing from pneumatic conveying to a vacuum operation.
When adding extension pipes for depths greater than 9m, an end section with airentry provision is fitted if liquids are to he lifted.
The large volume of' fast moving air necessary for pneumatic delivery is pro vided by a belt or power take-off-driven Hick Har greaves liquid ring exhauster compressor. With this device, the impeller creates vacuum while rotating within a wall of water.
The Model 1950 exhauster on the demonstrator has a swept volume of 1,050cfm
-(1,785m3/hr) and through 150mm diameter pipes it can
achieve loading rates in the region of 10 tonnes per hour at all depths.
For demonstration purposes. Whale has also fitted on the vehicle a BKW R35 hydraulically-driven rotary piston pump which provides an entirely separate highspeed sludge pumping function.
Irrespective of the viscosity of the waste, this has an out put of 3,250 lit/nth'. Fully pneumatically-operated draincover lifting equipment is also fitted.