Pearks Reaches Out with Mobile Shops
21st December 1951
Page 44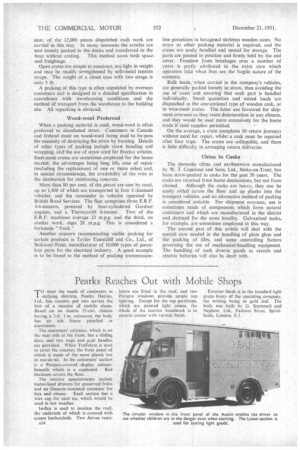 Page 44, 21st December 1951 —
Pearks Reaches Out with Mobile Shops
Close
MO meet the needs of customers in I outlying districts, Pearks Dairies, Ltd., has recently put into service the first of a number of mobile shops. Based on an Austin 25-cwt. chassis having a 2-ft. 1-in, extension, the body has an ash frame panelled in aluminium.
The customers' entrance, which is on the near side at the front, has a sliding door, and two steps and gi ab handles are provided. White Trafrolyie is used to cover the counter, the front panel of which is made of the same plastic but in eau-de-nil. In the cuStomers' section is a Perspex,:overed display cabinet, beneath which is a cupboard. Red linoleum covers the floor.
'The interior appointments include metal-tined drawers for preserved fruits and an Onazote-insulated container for fats and cheese. Each section has a wire cap for card ice, which would be used in hot weather.
isoflex is used to insulate the roof, the underside of which is covered with cream leathercloth. Two Airvac venti A34 lators are fitted in the roof, and two Perspex windows provide ample top lighting. Except for the top partitions. which are painted light cream, the whole of the interior woodwork is in natural colour with varnish finish. • Exterior finish is in the standard light green livery of the operating company, the writing, being in gold leaf. The body was built by G. Scarrimell and Nephew, Ltd., Fashion Street, Spitalfields. London, El.