R.H.E. Withdrew Special Vehicle
21st December 1951
Page 29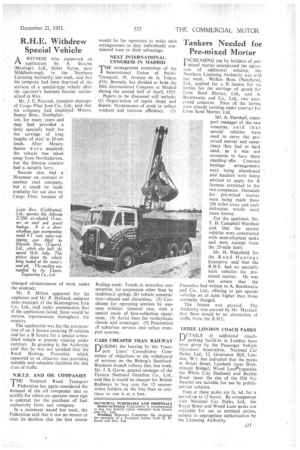 Page 29, 21st December 1951 —
R.H.E. Withdrew Special Vehicle
Close
AWITNESS who supported an application by A. Stevens (Haulage), Ltd., Great Ayton, near Middlesbrough, to the Northern Licensing Authority, last week, said that his company had been deprived of the services of a special-type vehicle after the operator's business became nationalized in May.
Mr. J. E. Peacock, transport manager of Cargo Fleet Iron Co., Ltd., said that his company had employed Messrs. Sunter Bros., Northaller ton, for many years and they had provided a lorry specially built for the carriage of long lengths of steel in 20-ton loads. After Messrs. Sunter wer e acquired, the vehicle was taken away from Northallerton, but the Stevens concern had a suitable lorry.
Stevens also had a 20-tonner on contract to another steel company, but it could be made available for use also by Cargo Fleet, because of
changed circumstances of work under the contract.
Mr. F. Milton appeared for the applicant and Mr. P. Molland, assistant sales manager of the Skinningrove Iron Co., Ltd., said under examination that if the application failed, there would be serious repercussions throughout the country.
The application was for the continuation of an A licence covering 10 vehicles and for a B licence for a special articulated vehicle at present running under contract. In granting it, the Authority said that he was not satisfied that the Road Haulage Executive, which appeared as an objector, was providing suitable and adequate facilities for this class of traffic.
N.R.T.F. AND OIL COMPANIES
THE National Road Transport Federation has again considered the demand of the oil companies that to qualify for rebate an operator must sign a contract for the purchase of fuel exclusively from one company.
In a statement issued last week, the Federation said that it saw no reason to alter its decision that the best course would be for operators to make such arrangements as they individually considered were to their advantage.
' NEXT INTERNATIONAL CONGRESS IN MADRID rrHE management committee of the International Union of Public Transport, 11/, Avenue de la Tolson d'Or, Brussels, has decided to hold the 30th .International Congress at Madrid during the second half of April, 1953. Papers to be discussed will include: (1) Organization of repair shops and depots: Maintenance of stock to reduce
workers and increase efficiency. (2) Rolling stock: Trends in motorbus construction, (a) suspension other than by traditional springs, (b) vehicle construction—chassis and chassisless. (3) Conditions for operating services by oneman vehicles: General case, with a special study of fare-collection equipment. (4) Aerial lines for trolleybuses (bends and crossings). (5) Penetration of suburban services into urban transport systems.
CARS CHEAPER THAN RAILWAY
DURING the hearing by the Transport Users' Consultative Committee of objections to the withdrawal of services on the Bishop's StortfordBraintree branch railway line, last week, Mr. J. S. Gavin, general manager of the Eastern 'National Omnibus Co., Ltd., said that it would be cheaper for British Railways to buy cars for 12 seasonticket holders on the line than to continue to run it at a loss.