Traders Reject R.H.E. Increases
21st December 1951
Page 28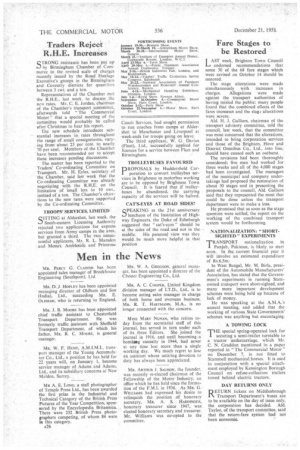 Page 28, 21st December 1951 —
Traders Reject R.H.E. Increases
Close
QTRONG resistance has been put up 6--) by Birmingham Chamber of Commerce to the revised scale of charges recently issued by the Road Haulage Executive's groups in the Birmingham and Coventry districts for quantities between 3 cwt. and a ton Representatives of the Chamber met the R.H.E.. last week, to discuss the new rates. Mr. C. E. Jordan, chairman of the Chamber's transport committee, afterwards told "The Commercial Motor" that a special meeting of 111,... committee would probably be called after Christmas to hear his report.
The new schedule introduces substantial increases in rates throughout the range of small consignments, varying from about 25 per cent, to nearly 70 per cent. Members of the Chamber have been recommended not to accept these increases pending discussions.
The matter has been reported to the Traders' Co-ordinating Committee on Transport. Mr. I-1. Eyles, secretary of the Chamber, said last week that the Co-ordinating Committee was already negotiating with the R.H.E. on the limitation of -small lots to 10 cwt.. instead of a ton. The Chamber's objections to the new rates were supported by the Co-ordinating Committee.
TROOPS' SERVICES, LIMITED QITTING at Aldershot, last week, the i•--; South-eastern Licensing Authority rejected two applications for express services from Army camps in the area, but granted a third. The two unsuccessful applicants, Mr_ R. L. Marsden and Messrs. Ambleside and Primrose Coach Services, had sought permission to run coaches from camps at Aldershot to Manchester and Liverpool at week-ends for troops going on leave.
The third applicant, W. G. Davies (Fleet), Ltd., successfully applied for licences for a service between Fleet and Birmingham.
TROLLEYBUSES FAVOURED
PROPOSALS by Huddersfield Corporation to convert trolleybus services in Brighouse to motorbus working are to be opposed by Brighouse 'Town Council. It is feared that if trolleybuses be abandoned, the carrying capacity of the services will be halved.
CAT'S-EYES AT ROAD SIDES?
CPEAKING at the 21st anniversary luncheon of the Institution of Highway Engineers, the Duke of Edinburgh suggested that " cat's-eyes " should be at the sides of the road.and not in the middle. His personal view was they would be much more helpful in that position