"Reserves and Fares" Unrelated: Councils Oppose Aldershot Co.
21st December 1951
Page 27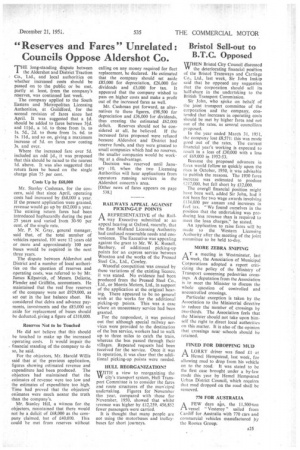 Page 27, 21st December 1951 —
"Reserves and Fares" Unrelated: Councils Oppose Aldershot Co.
Close
THE long-standing dispute between the Aldershot and District Traction Co., Ltd., and local authorities on whether increased costs should be passed on to the public or be met, partly at least, from the company's reserves, was continued last week.
The company applied to the South Eastern and Metropolitan Licensing Authorities, at Guildford, for the second revision of fares since last April. It was suggested that a id. should be added to fares between Md. and Ilid., a id. to those from is. to Is. 5d., 2d. to those from Is. 6d. to Is. lid., and so on, giving a maximum increase of 5d. on fares now costing 3s. and over.
Where the increased fare over 5d. included an odd id., it was proposed that this should be raised to the nearest Id. above. It was also suggested that return fares be based on the single charge plus 75 per cent.
Costs Up by /68,000 Mr. Stanley Cushman, for the concern, said that since April, operating costs had increased by £68,000 a year. If the present application were granted, revenue would go up by £62,000 a year. The existing return fares had been introduced haphazardly during the past 25 years and varied from 30-90 per cent. of the single rate.
Mr. P. N. Gray, general manager, said that, of the total number of vehicles operated, 101 were 12 years old or more and approximately 100 new buses would be required in the next three years. The dispute between Aldershot and District and a number of local authorities on the question of reserves and operating costs, was referred to by Mr. James Kilpatrick, of Messrs. Deliotte, Plender and Griffiths, accountants. He maintained that the real free reserves of the company were not £929,000, as set out in the last balance sheet. He considered that debts and advance payments, investments and the £85,000 set aside for replacement of buses should be deducted, giving a figure of £318,000.
Reserves Not to be Touched He did not believe that this should be touched to make up the increased operating costs. It would impair the financial standing of the company to do so, he said.
For the objectors, Mr. Harold Willis said that at the previous application, figures showing estimated revenue and expenditure had been produced. The objectors had maintained that the estimates of revenue were too low and the estimates of expenditure too high. Time had proved that the objectors' estimates were much nearer the truth than the company's_ Mr. Stanley Hill, a witness for the objectors, maintained that there would not be a deficit of £68,000 as the com pany claimed, but of £40,000. This could be met from reserves without calling on any money required for fleet replacement, he declared. He estimated that the company should set aside £85,000 for depreciation, £26,000 for dividends and £3,000 for tax. It appeared that the company wished to pass on higher costs and make a profit out of the increased fares as well.
Mr. Cushman put forward, as alternatives to these figures, £98.500 for depreciation and £36,000 for dividends, thus creating the estimated ,£62,000 deficit. Reserves should not be con sidered at all, he believed. If the increased fares proposed were refused because Aldershot and District had reserve funds, and they were granted to small companies which had no reserves, the smaller companies would be working at a disadvantage.
Decision was reserved until January 10, when the two Licensing Authorities will hear applications from operators running services in the Aldershot concern's area.
[Other news of fares appears on page 538.] RAILWAYS APPEAL AGAINST PICKING-UP POINTS
A REPRESENTATIVE of the Rail
way Executive submitted at an appeal hearing at Oxford, recently, that the East Midland Licensing Authority had confused reasonable needs arid convenience. The Executive was appealing against the grant to Mr. W. K. Russell, Banbury, of additional picking-up points for an express service between Wroxton and the works of the Pressed Steel Co., Ltd., Cowley.
Wasteful competition was created by these variations of the existing licence, it was stated. No evidence .had been produced from the Pressed Steel Co., -Ltd., or Morris Motors, Ltd., in support of the application at the original hearing. There appeared to be no general wish at the works for the additional picking-up points. This was a case where an unnecessary service had been granted, For the respondent, it was pointed out that although special railway services were provided to the destination of the bus service, workers had to walk up to three miles to catch the train, whereas the bus passed through their villages. Repeated requests had been received for the service. Once it was in operation, it was clear that the additional picking-up points were needed.
HULL REORGANIZATION?
WITH a view to reorganizing the YY city's transport system, Hull Transport Committee is to consider the fares and route structures of the mun'cipal undertaking. Figures for November this year, compared with those for November, 1950, showed that whilst tevenue was higher by £12,259, 456,852 fewer passengers were carried.
It is thought that many people are not using the motorbuses and trolleybuses for short journeys.