Bristol Sell-out to B.T.C. Opposed
21st December 1951
Page 27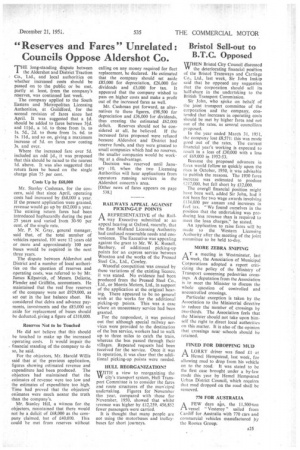 Page 27, 21st December 1951 —
Bristol Sell-out to B.T.C. Opposed
Close
WHEN Bristol City Council discussed the deteriorating financial position of the Bristol Tramways and Carriage Co., Ltd., last week, Sir John Inskip said that he opposed any suggestion that the corporation should sell its half-share in the undertaking to the British Transport Commission.
Sir John, who spoke on behalf of the joint transport committee of the corporation and the company, contended that increases in operating costs should be met by higher fares and not out of the rates, as several councillors proposed.
In the year ended March 31, 1951, thLs company lost £8,571: this was made good out of the rates. The current Financial year's working is expected to rcsult in a loss of £30,000 with a loss of £69,000 in 1952-53.
Because the proposed advances in fa res would follow so quickly upon the rises in October, 1950, it was advisable to publish the reasons. The 1950 fares increase was estimated to produce (217,000, but fell short by £12,000.
The overall financial position might have been well, added Sir John, had it not been for two wage awards involving £134,000 per annum and increases in fuel tax. "We found ourselves in the position that the undertaking was producing less revenue than is required to meet the loan charges," he stated.
An application to raise fares will be made to the Western Licensing Authority after the meeting of the joint committee to be held to-day.
MORE ZEBRA SNIPING
AT a meeting in Westminster, last week, the Association of Municipal Corporations adopted a report criticizing the policy of the Ministry of Transport concerning pedestrian crossings. A deputation from the Association is to meet the Minister to discuss the whole question of controlled and uncontrolled crossings.
Particular exception is taken by the Association to the Ministerial directive to reduce the number of crossings by two-thirds. The Association feels that the Minister should not take upon himself the right to direct local authorities on this matter. It is also of the opinion that crossings near schools should be retained.
FINED FOR DROPPING MUD t/
A LORRY driver was fined £1 at Herne! Hempstead, last week, for allowing mud to drop from his vehicle on to the road. It was stated to he the first case brought under a by-law made this year by Hemel Hempstead Urban District Council, which requires that mud dropped on the road shall be removed.
770 FOR AUSTRALIA
AFEW days aio, the 11,500-ton vessel " Vesteroy " sailed from Cardiff for Australia with 770 cars and commercial vehicles manufactured by the Rootes Group.