Passing Comments
21st December 1951
Page 24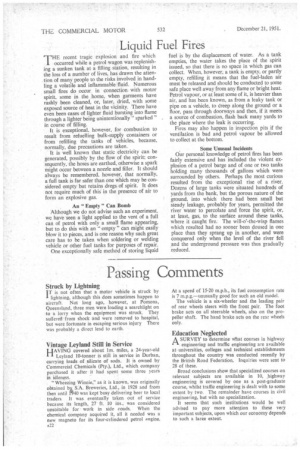 Page 25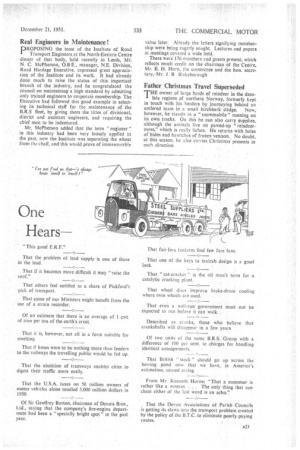 Page 24, 21st December 1951 —
Passing Comments
Close
Struck by Lightning
I T is not often that a motor vehicle is struck by
lightning, although this does sometimes happen to aircraft_ Not long ago, however, at Pomona, Queensland, three men were loading a searchlight on to a lorry when the equipment was struck. They suffered -from shock and were removed to hospital, but were fortunate in escaping serious injury There was probably a direct lead to earth.
Vintage Leyland Still in Service
WAVING covered about lm. miles, a 24-year-old " Leyland 10-tonner is still in service in Durban, carrying loads of silicate of soda. It is owned by Commercial Chemicals (Pty..), Ltd., which company purchased it after it had spent some three years in idleness.
"Wheezing Winnie," as it is known, was originally obtained bi S.A. Breweries, Ltd., in 1928 and from then until 1,40 was kept•busy delivering beer to local traders It was eventually taken out of service because its length, 27 ft. 10 ins., was considered unsuitable for work in side sroads. When the chemical company acquired it, all it needed was a new magneto for its four-cvlindered petrol engine. A22 At a speed of 15-20 m.p.h., its fuel consumption rate is 7 m.p.g.—unusually good for such an old model. The vehicle is a six-wheeler and the leading pair of rear wheels steers with the front pair. The foot brake acts on all steerable wheels, also on the propeller shaft. The hand brake acts on the rear wheels only.
Education Neglected
A SURVEY to determine at courses in highway
engineering and traffic engineering are available at universities, colleges and technical establishments throughout the country was conducted recently by the British Road Federation. Inquiries were sent to 28 of these.
Broad conclusions show that specialized courses on relevant subjects are available in 10, highway engineering is covered by one as a post-graduate course, whilst traffic engineering is dealt with to some extent by two. The remainder have courses in civil engineering, but with no specialization. It seems that such institutions would be well advised to pay more attention to these very important subjects, upon which our economy depends to such a large extent.
Real Engineers in Maintenance!
PROPOSING the toast of the Institute of Road Transport Engineers at the North-Eastern Centre dinner of that body, held recently in Leeds, Mr. N. C. McPherson, 0.B E, manager, N.E. Division, Road Haulage Executive, expressed great appreciation. of the Institute and its work. It had already done much to raise the status of this important branch of the industry, and he congratulated the council on maintaining a high standard by admitting only trained engineerslo corporate membership. The Executive had followed this good example in selecting its technical staff for the maintenance of the B.R.S fleet, by giving them the titles of divisional, district and assistant engineers, and requiring the chief men to be indentured,
Mr. McPherson added that the term " engineer " in this industry had been very loosely applied in the past, now the Institute was separating the wheat from the chaff, and this would prove of immeasurable value later. Already the letters signifying membership were being eagerly sought. Lectures and papers at meetings covered a wide field.
There were 176 members and guests present, which reflects much credit on the chairman of the Centre, Mr. E. H. Horn, the committee and the hon. secretary,-Mr. J. R Blakeborough.
Father Christmas Travel Superseded
THE owner of large herds of reindeer in the desolate regions of northern Norway, formerly kept in touch with his herders by journeying behind an
antlered team in a small birchbark sledge. Now, however, he travels in a " snowmobile " running on its own tracks. On this he can also carry supplies, although the animals live on pawed-up "reindeermoss," which is really lichen. I-1e returns with bales of hides and haunches of frozen venison., No doubt, at this season, he also carries Christmas presents in each direction.