Hopeful Prospects for
21st December 1934
Page 32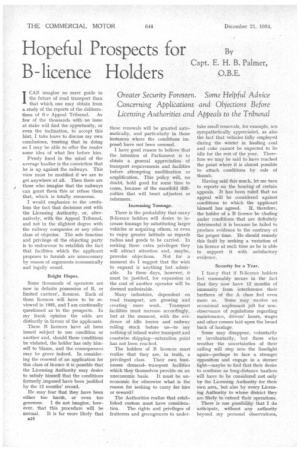 Page 33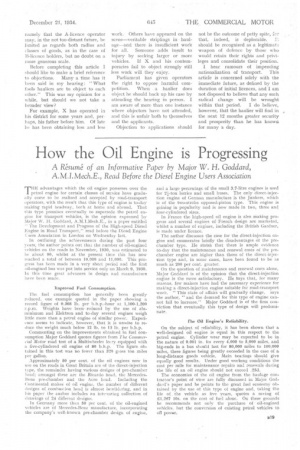 Page 32, 21st December 1934 —
Hopeful Prospects for
Close
B licence Holders 0.B.E.
By Capt. E. H. B. Palmer,
ICAN imagine no surer guide to the future of road transport than that which one may obtain from a study of the reports of the deliberations of tie Appeal Tribunal. As few of the thousands with an issue at stake will find the opportunity, or even the inclination, to accept this hint, I take leave to discuss my own conclusions, trusting that in doing so I may be able to offer the reader some idea of what lies before him.
Firmly fixed in the mind of the average haulier is the conviction that he is up against the railways. This view must be modified if we are to get anywhere at an. Then there are those who imagine that the railways can grant them this or refuse them that, which is totally erroneous.
I would emphasize to the credulous the fact that decisions rest with the Licensing Authority, Or, alternatively, with the Appeal Tribunal, and not in the slightest degree with the railway companies or any other class of objector. The sole function and privilege of the objecting party is to endeavour to establish the fact that facilities which the applicant proposes to furnish are unnecessary by reason of arguments economically and legally sound.
Bright Hopes.
Some thousands of operators are now in definite possession of B, or limited carriers', licences. Each of these licences will have to be reviewed in 1935, and I am continually questioned as to the prospects. In my frank opinion the odds are distinctly in favour of the applicants.
These B licences have all been issued subject to one condition or another and, should these conditions be violated, the holder has only himself to blame, and the consequences may be grave indeed. In considering the renewal of an application for this class of licence it is possible that the Licensing Authority may desire to satisfy himself that the conditions formerly ,imposed have been justified by the 12 months' record.
He may fear that they have been either too harsh, or even too generous. I do not imagine, however, that this procedure will be normal. It is far more likely that is18 these renewals will be granted automatically, and particularly in those instances where the conditions imposed have not been unusual, I have good reason to believe that the intention of Parliament is to obtain a general appreciation , of transport requirements and facilities before attempting modification or amplification. This policy will, no doubt, hold good for some time to come, because of the manifold difficulties that will beset adjusters or reformers.
Increasing Tonnage.
There is the probability that many B-licence holders will desire to increase tonnage by substituting larger vehicles or acquiring others, or even to enjoy greater latitude as regards radius and goods to be carried. In seeking these extra privileges they will attract attention and, maybe, provoke objections. Not for a moment do I suggest that the wish to expand is anything but admirable. In these days, however, it must be justified, for expansion at the cost of another operator will be deemed undesirable.
Many industries, dependent on road transport, are growing and creating more work. Transport facilities must increase accordingly, but at the moment, with the evidence of idle lorries and railway rolling stock before us—to say nothing of inland water transport and coastwise shipping—saturation point has not been reached.
The holders of B licences must realize that they are, in truth, a
privileged class. Their own businesses demand.transport facilities which they themselves provide on an uneconomic basis. It must he uneconomic for otherwise what is the reason for seeking to carry for hire or reward?
The Authorities realize that established custom must have consideration. The rights and privileges of fruiterers and greengrocers to under
take small removals, for example, are sympathetically appreciated, as also the fact that vehicles fully employed during the winter in hauling coal and coke cannot be expected to lie idle for the rest of the year. Therefore we may be said to have reached the point where it is almost possible to attach conditions by rule of thumb.
Having said this much, let me turn to reports on the hearing of certain appeals. It has been ruled that no appeal will be considered against conditions to which the applicant himself has agreed. If, therefore, the holder of a B licence be chafing under conditions that are definitely detrimental it is because he failed to produce evidence to the contrary at the proper time. He should remedy this fault by seeking a variation of his licence at such time as he is able to support it with satisfactory evidence.
Security for a Year.
I fancy that if B-licence holders feel reasonably secure in the fact that they now have 12 months of immunity from interference their brethren of the A class feel even more so. Some may receive an occasional unpleasant jolt for nonobservance of regulations regarding maintenance, drivers' hours, wages and other crosses laid upon the broad back of haulage.
Some may disappear, voluntarily or involuntarily, but those who weather the uncertainties of their calling will step into the limelight again—perhaps to face a stronger opposition and engage in a sterner fight—maybe to find that their desire to continue as long-distance hauliers will have to be considered, not only by the Licensing Authority for their own area, but also by every Licensing Authority to whose district they are likely to extend their operations.
There is one possibility that I do anticipate, without any authority beyond my personal observations, namely that the A-licence operator may, in the not too-distant future, be limited as regards both radius and classes of goods, as in the case of B-licence holders, but no doubt on a more generous scale.
Before completing this article I should like to make a brief reference to objections. Many a time has it been said in my hearing: "What fools hauliers are to object to each other." This was my opinion for a while, but should we not take a broader view?
For example, X has operated in his district for some years and, perhaps, his father before him. Of late he has been obtaining less and less work. • Others have appeared on the scene—veritable striplings in , haulage—arid there. is insufficient work for all. Someone adds insult to injury by seeking larger or more vehicles. If X and his contemporaries fait to object strongly still less work will they enjoy.
Parliament has given operators the right to oppose harmful competition. When a haulier does object he should back up his case by attending the hearing in person. I am aware of more than one instance whore objectors have not attended, and this is unfair both to themselves and the applicants.
Objection to applications should
not be the outcome of petty spite, -f.c.,r that, indeed, is deplorable. .!.'; should be recognized as a legitima.t,,) weapon of defence by those who would retain their rights and privileges and consolidate their position.
I hear rumours of impending
nationalization of transport. This article is concerned solely with the immediate future, as defined by the duration of initial licences, and I am not disposed to believe that any such radical change will be wrought within that period. I do believe, however, that the haulier will find in the next 12 months greater security and prosperity than he has known for many -a day.