Our Campaign Comforts Fund.
21st December 1916
Page 16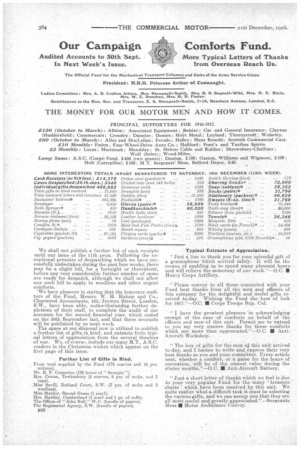 Page 16, 21st December 1916 —
Our Campaign Comforts Fund.
Close
Audited Accounts to 30th Sept. In Next Week's Issue. More Typical Letters of Thanks from Overseas Reach Us.
The Official Fund for the Mechanical Transport Co/um and Units of the Army Service Corps.
President: H.R.H. Princess Arthur of Connaught.
Ladies Committee : Mrs. A. R. Crofton Atkins, Mrs. Shrapnell-Smith. Mrs. R. K. Bagnall-Mild. Mrs. H. E. Blain, Mrs. W. E. Donohue, Mrs. H. N. Foster.
Remittances to the Hon. Sec. and Treasurer, E. S. Shrapnell-Smith, 7-15, Rosebery Avenue, London, E.C.
THE MONEY FOR OUR MOTOR MEN AND HOW IT COMES.
PRINCIPAL SUPPORTERS FOR 1916-1917. £120 (October to March): Albion; Associated Equipment ; Belsize; Car and General Insurance; Clayton (Huddersfield); Commercars ; Crossley ; Daimler; Dennis ; Hot Metal ; Leyland; Thornycroft ; Wolseley. £60 (October to March ) : Alley and MacLellan; Ferodo; Halley; Hans Renold; Scottish Commercial Cais. £10 Monthly: Foden , Four-Wheel-Drive Auto Co.; Hallford; Pratt's and Taxibus Spirits. £5 Monthly : Lucas ; Macintosh ; Maudslay ; St. Helens Cable and Rubber ; Shrewsbury-Challiner ; Wolf (Solex); Wood-Milne. Lump Sums : A.S.C. (Corps) Fund, £460 (two grants); Dunlop, £100; Gaston, Williams and Wigmore, £100; HoIt (Caterpillar), £100; M.T. Sergeants Mess, Bulford Depot, £40.
We shall not publish a further list of cash receipts until our issue of the 11th prox. Following the ceptional pressure of despatching which we have successfully undertaken during the past four weeks, there may be a slight lull, for a fortnight or thereabout, before any very considerable further number of cases are ready for despatch, although we shall not allow any such lull to apply to woollens and other urgent comforts.
We have pleasure in stating that the honorary auditors of the Fund, Messrs. W. H. Bishop and Co., Chartered Accountants, 105,'Jerrnyn Street, London, S.W., have been able, nothwithstandng further depletions of their staff, to complete the audit of our accounts for the second financial year, which ended on the 30th September last, and that these accounts will be published by us next week.
The space at our disposal now is utilized to publish a further list of gifts in kind, and extracts from typical letters of appreciation from the several theatres of war. We, of course, include our many M.T., A.S.C. readers in the Christmas wishes which appear on the first page of this issue.
Further List of Gifts in Kind.
From wool supplied by the Fund (176 scarves and 16., pre. mittens). Mr. E. P. Carpenter (100 boxes of " Sanagen ").
Mrs. Cowan, Tewkesbury (6 scarves, 6 pie. of socks, and 2 Caps).
_Miss Savill, Rutland Court, S.W. (3 prs. of socks and 2 woollens).
Miss Straker, Stroud Green (1 scarf).
Mrs. Hartley, Cumberland (1 scarf and 1 pr of cuffs). The Offices of "John Bull,' W.C. (bundle of papers). The Regimental Agency, S.W. (bundle of papers).
B50 Typical Extracts of Appreciation.
"Just a line to thank you for your splendid gift of a gramophone which arrived safely. It will be the means of enabling us to spend many pleasant hours and will relieve the monotony of our work."—O.C. Heavy Corps Artillery.
"Please convey to all those connected with your Fund best thanks from all the men and officers of this company for the delightful and useful gifts re. ceived to-day. Wishing the Fund the best of luck for 1917."—O.C. • Corps Troops Sup. Col.
" I have the greatest pleasure in acknowledging receipt of the case of comforts on behalf of the officers and men-of this unit. Permit me to extend to you my very sincere thanks for these comforts which are more than appreciated."—O.C. • AntiAircraft Workshop.
" The box of gifts for the men og this unit arrived to-day. and I hasten to write and express, their very best thanks to you and your committee. Every article sent, whether a comfort, or a game for the hours of recreation, will be of the utmost value during the Winter moriths."—O.C. • Anti-Aircraft Battery.
"Just a short letter of thanks which we feel is due to your very popular Fund for the many 'treasure ' chests' which have been received by this unit. We quite realize what a difficult task it must be selecting the various gifts, and we can assurp you that they are all most useful and greatly appreciated."—Sergeants Mess • Motor Ambulance Convoy.