Out and Home.
21st December 1916
Page 13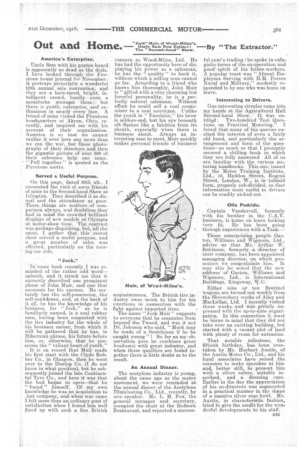 Page 13, 21st December 1916 —
Out and Home.
Close
America's Enterprise.
'Uncle Sam with his goatee beard is apparently as dead as the dodo. have looked through the Firestone house journal for November : it portrays pictorially a wonderful 10th annual sale 'convention, and they are a bare-laced, bright, intelligent crowd, hardly even a moustache amongst them ; but there is youth, enterprise, and enthusiasm in nearly every face. A friend of mine visited the Firestone headquarters at Akron, Ohio, recently, and inspired me with his account of their organization. America is so vast we cannot realize it over here any more than we can the war, but these photographs of their directors and then the gigantic picture of over 500 of their salesmen help one some. "Pull together" is quoted as the Firestone motto.
Served a Useful Purpose.
On this page, dated 30th ult.. I recounted the visit of some friends of mine to the Second-hand Show at Islington. They described it as dismal and the attendance as poor. These, things are matters of comparison always, and doubtless they had in mind the crowded brilliant displays of new models at Olympia at motor-show time. The contrast was perhaps 'dispiriting, but, all the same, I gather that this recent show served a useful purpose, and a great number of sales was effected, particularly on the touring-car side.
"Jock."
In tome book recently I was reminded of the rather odd word— aplomb, and it struck me that it correctly described one prominent phase of John Muir, and one that accounts for his success. He certainty has the self-possession, the self-confidence, and, at the back of it all, he has the knowledge of his business, for " Jock," as he is familiarly named, is a real rubber man, having been connected with the tire industry for the whole of his business career, from which it will be gathered that he has, in Hibernian phrase, his future before him, or, otherwise, that he possesses the "valiant heart of youth."
It is on record that Muir made his first start with the Clyde Rubber Co., in Glasgow, then he went over to the Dunlop Co. (I do not know in what position), but he subsequently joined the late Continental Tyre Co., and here it was that the bud began to open—that he " found " himself. Of my own knowledge he was an acquisition to ..hat company, and when war came I felt more than an ordinary gust of satisfaction when I found him well fixed up with such a fine British concern as Wood-Milne, Ltd. He has had the opportunity here of displaying his power as a salesman, he has the quality" to back it, without which a selling man cannot go far. According to a friend who knows him thoroughly, John Muir is "gifted with a very charming but forceful personality, he is a perfectly natural salesman. Without effort he could sell a coal economizer to a coal merchant. Unlike the youth in " Excelsior," his brow is seldomssad, but his eye beneath oft flashes like a falchion from its sheath, especially when there is business about. Always an interesting man to meet, Muir quickly makes personal friends of business
acquaintances, The British tire industry owes "inn& to him for his exertions in connection with the fight against imported tires.
The name "Jock Muir" suggests' to everyone that he emanates from beyond the Tweed, and was it not Dr. Johnson who said, "Much may be made of a Scotchman if he be caught young"? So far as my observation goes he combines great bonhomie with great industry, and when those qualities are found together there is little doubt as to the result.
An Annual Dinner.
The acetylene industry is young, about the same age as the motor movement, we were reminded at the annual dinner of the Acetylene Illuminating Co., Ltd., recently, by one speaker. Mr. L. M. Fox, the general manager and secretary, occupied the chair at the Holborn Restaurant, and reported a success
ful year's trading :he spoke in eulogistic terms of the co-operation and good spirit of his fellow-workers. A popular toast was "Absent Employees Serving with H.M. Forces Naval and Military," modestly responded to by one who was home on leave.
interesting to Drivers.
One interesting circular came into my hands at the Agricultural Hall Second-hand Show. It was entitle.d : Two-hundred Test Questions on Practical Motoring." I found that many of the queries ex, cited the interest of even a fairly old hand, and particularly the arrangement and form of the questions—so much so that I promptly secured a shilling 'book in which they are fully answered All of us are familiar with the various motoring handbooks. This one, issued by the Motor Training Institute, Ltd., 10, Heddon Street, Regent Street, London, W., is in tabloid form, properly sub-divided, so that information most useful to drivers can be readily picked out.
011a Podrida.
Captain Vandervell, formerly with his brother in the C.A.V. business, is home on leave looking very fit. He has been going through experiences with 11,, Tank.— Those enterprising people Gaston, Williams and Wigmore, Ltd., advise us that Mr. Arthur W. Robinson, -formerly a director of their company, has been appointed managing director, on which promotion we congratulate him.. It may alio be noted that the new address' of Gaston, Williams and Wigmore, Ltd., is International Buildings, Kingsway, -vy .C.'
Either nine or ten Sentinel wagons are turned out weekly from the Shrewsbury works of Alley and MacLellan, Ltd. I -recently visited these works: and was greatly impressed with the up-to-date organization. In this connection it must be borne in mind that they did not take over an existing building,, but started with a vacant plot of land with plenty of room for extension.
That notable milestone, the fiftieth birthday, has been overtaken by Mr. Herbert Austin of the Austin Motor Co., Ltd., and his loyal associates have seized the occasion to make speeches at him and, better still, to present him with a silver salver, suitably inscribed, and a dressing case. Earlier in the day the appreciation of his co-directors was augmented in a practical manner in the shape of a massive silver rose bowl. Mr. Austin, in characteristic fashion, tried to give the credit for the wonderful developments to his staff.