Peoplean....the e
21st August 1982
Page 9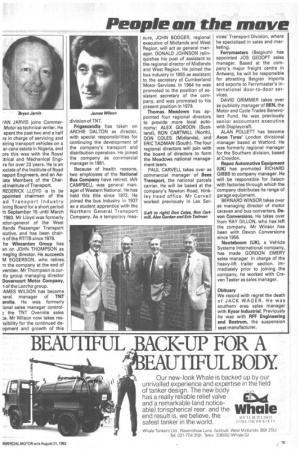 Page 9, 21st August 1982 —
Peoplean....the e
Close
(AN JARVIS joins CommerMotor as technical writer. He spent the past two and a half rs in charge of servicing and airing transport vehicles on a ar-cane estate in Nigeria, and Dre this was with the Royal 7..trical and Mechanical Engirs for over 23 years. He is an ,ociate of the Institute of Road nsport Engineers, and an Aslate Members of the Charid Institute of Transport.
REDERICK LLOYD is to be ppointed chairman of the ad Transport Industry ining Board for a short period m September 15 until March 1983. Mr Lloyd was formerly )ctor-general of the West fiends Passenger Transport cutive, and has been chair n of the RTITB since 1978.
he Wincanton Group has an on JOHN THOMPSON as naging director. He succeeds M EGGERSON, who retires, m the company at the end of vember. Mr Thompson is curtly group managing director Dovercourt Motor Company, of the Lonrho group.
AMES WILSON has become, ieral manager of TNT smite. He was formerly ional sales manager control! the TNT Overnite sales 3e. Mr Wilson now takes resIsibility for the continued deopment and growth of this
division of TNT.
Frigascandia has taken on ARCHIE DALTON as director, with special responsibilities for continuing the development of the company's transport and distribution operation. He joined the company as commercial manager in 1981.
Because of health reasons, two employees of the National Bus Company have retired. IAN CAMPBELL was general manager of Western National. He has held this title since 1972. He joined the bus industry in 1937 as a student apprentice with the Northern General Transport Company. As a temporary mea sure, JOHN BODGER, regional executive of Midlands and West Region, will act as general manager. DONALD JOHNSON relinquishes his post of assistant to the regional director of Midlands and West Region. He joined the bus industry in 1955 as assistant to the secretary of Cumberland Motor Services. In 1964 he was promoted to the position of assistant secretary of the cornpany, and was promoted to his present position in 1979.
Thomas Meadows has appointed four regional directors to provide more local autonomy; ALEX GORDON (Scotland), RON CARTMILL (North), DON COLES (Midlands), and ERIC TADMAN (South). The four regional directors will join with the board of directors to form the Meadows national management team.
PAUL CARVELL takes over as commercial manager of Bees Transport, the national parcels carrier. He will be based at the company's Newton Road, Hinkley head office. Mr Carvell worked previously in Lex Ser vices' Transport Division, where he specialised in sales and marketing.
Ferrymasters (Belgium) has appointed JOS GEDOPT sales manager. Based at the company's major freight centre in Antwerp, he will be responsible for attracting Belgian imports and exports to Ferrymaster's international door-to-door services.
DAVID GRIMMER takes over as publicity manager of BEN, the Motor and Cycle Trades Benevolent Fund. He was previously senior accountant executive with Displaycraft.
ALAN POLLETT has become Avon Tyres' London divisional manager based at Watford. He was formerly regional manager for the Southern division, based at Croydon.
Repco Automotive Equipment (UK) has promoted RICHARD GIBBS to company manager. He will be responsible for liaison with factories through which the company distributes its range of garage equipment.
BERNARD WIN SOR takes over as managing director of motor caravan and bus converters, Devon Conversions. He takes over from RAY DILLON, who has left the company. Mr Winsor has been with Devon Conversions since 1956.
Nooteboom (UK), a Vehicle Systems International company, has made GORDON EMERY sales manager in charge of the heavy-lift trailer section. Immediately prior to joining the company, he worked with Craven Tasker as sales manager.
Obituary We record with regret the death of JACK WAGER. He was southern area sales manager with Kysor Industrial. Previously he was with RFF Engineering and Bostrum, the suspension seat manufacturer.
Tags
People
:
Thompson
,
PAUL CARVELL
,
JACK WAGER
,
Thomas Meadows
,
ALAN POLLETT
,
RON CARTMILL
,
GORDON EMERY
,
JOS GEDOPT
,
DONALD JOHNSON
,
REDERICK LLOYD
,
BERNARD WIN SOR
,
JOHN BODGER
,
Wilson
,
M EGGERSON
,
IAN CAMPBELL
,
RICHARD GIBBS
,
ALEX GORDON
,
ERIC TADMAN
,
RAY DILLON
,
DON COLES (Midlands)
,
Winsor
,
DAVID GRIMMER