Study of stud failure
21st August 1982
Page 8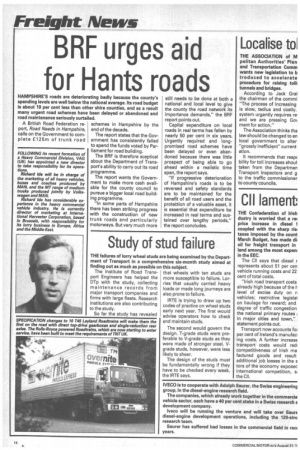 Page 8, 21st August 1982 —
Study of stud failure
Close
THE failures of lorry wheel studs are being examined by the Department of Transport in a comprehensive six-month study aimed at finding out as much as possible on this subject.
The Institute of Road Transport Engineers has helped the DTp with the study, collecting maintenance records from major transport companies and firms with large fleets. Research institutions are also contributing to the study.
So far the study has revealed that wheels with ten studs are more susceptible to failure. Lorries that usually carried heavy loads or made long journeys are also prone to failure.
IRTE is trying to draw up two codes of practice on wheel studs early next year. The first would advise operators how to check and maintain studs.
The second would govern the design. T-grade studs were preferable to V-g rade studs as they were made of stronger steel. Vgrade studs, however, were less likely to sheer.
The design of the studs must be fundamentally wrong if they have to be checked every week, the1RTE says.