0-licence denied to newcomer of 64
21st August 1982
Page 7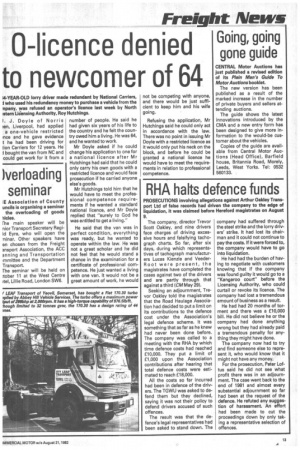 Page 7, 21st August 1982 —
0-licence denied to newcomer of 64
Close
4-YEAR-OLD lorry driver made redundant by National Carriers, I who used his redundancy money to purchase a vehicle from the npany, was refused an operator's licence last week by North *tern Licensing Authority, Roy Hutchings.
I. J. Doyle of Norris ien, Liverpool, had applied
a one-vehicle restricted ,nce and he gave evidence t he had been driving for tion Carriers for 12 years. He
bought the van from NC and could get work for it from a number of people. He said he had given six years of his life to the country and he felt the country owed him a living. He was 64, and he wanted to work.
Mr Doyle asked if he could change his application to one for a national licence after Mr Hutchings had said that he could only carry his own goods with a restricted licence and would face prosecution if he carried anyone else's goods.
Mr Hutchings told him that he would have to meet the professional competence requirements if he wanted a standard national licence, and Mr Doyle replied that "surely to God he was entitled to get a living."
He said that the van was in perfect condition, everything was ready, but he wanted to operate within the law. He was not a great scholar and he did not feel that he would stand a chance in the examination for a certificate of professional competence. He just wanted a living with one van. It would not be a great amount of work, he would
not be competing with anyone, and there would be just sufficient to keep him and his wife going.
Refusing the application, Mr Hutchings said he could only act in accordance with the law. There was no point in issuing Mr Doyle with a restricted licence as it would only put his neck on the block, and before he could be granted a national licence he would have to meet the requirements in relation to professional competence.