Volvo gets the UK nod
21st August 1982
Page 5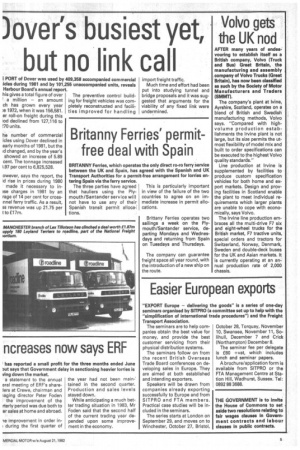 Page 5, 21st August 1982 —
Volvo gets the UK nod
Close
AFTER many years of endea-' vouring to establish itself as a British company, Volvo (Truck and Bus) Great Britain, the manufacturing and assembly 'company of Volvo Trucks (Great 'Britain), has now been classified as such by the Society of Motor Manufacturers and Traders (SMMT).
The company's plant at !vine, Ayrshire, Scotland, operates on a blend of British and Swedish manufacturing methods, Volvo says. "Compared with highvolume production establishments the Irvine plant is not large, but its size permits the utmost flexibility of model mix and built to order specifications can be executed to the highest Volvo quality standards."
Line production at Irvine is supplemented by facilities to produce custom specification vehicles for both home and export markets. Design and proving facilities in Scotland enable the plant to meet individual requirements which larger plants are unable to cope with economically, says Volvo.
The Irvine line production embraces all the multi-drive F7 six and eight-wheel trucks for the British market, F7 tractive units, special orders and tractors for Switzerland, Norway, Denmark, Sweden and double-deck buses for the UK and Asian markets. It is currently operating at an annual production rate of 2,000 chassis,