Why we lack permits
21st August 1982
Page 42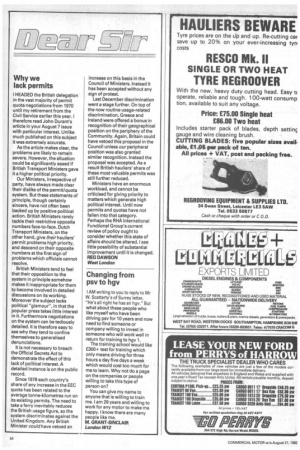 Page 42, 21st August 1982 —
Why we lack permits
Close
Keywords :
I HEADED the British delegation in the vast majority of permit quota negotiations from 1970 until my retirement from the Civil Service earlier this year. I therefore read John Durant's article in your August 7 issue with particular interest. Unlike much published on this subject it was extremely accurate.
As the article makes clear, the problems are likely to remain severe. However, the situation could be significantly eased if British Transport Ministers gave it a higher political priority.
Our Ministers, irrespective of party, have always made clear their dislike of the permit/quota system. But these statements of principle, though certainly sincere, have not often been backed up by positive political action. British Ministers rarely tackle their restrictive opposite numbers face-to-face. Dutch Transport Ministers, on the other hand, give their hauliers' permit problems high priority, and descend on their opposite numbers at the first sign of problems which officials cannot resolve.
British Ministers tend to feel that their opposition to the system in principle somehow makes it inappropriate for them to become involved in detailed discussions on its working. Moreover the subject lacks political "glamour", in that the popular press takes little interest in it. Furthermore negotiations on the system can be tediously detailed. It is therefore easy to see why they tend to confine themselves to generalised denunciations.
It is not necessary to breach the Official Secrets Act to demonstrate the effect of this lack of political interest. A detailed instance is on the public record.
Since 1978 each country's share of any increase in the EEC quota has been related to the average tonne-kilometres run on its existing permits. The need to take a ferry inevitably reduces the British usage figure, so the system discriminates against the United Kingdom. Any British Minister could have vetoed an
increase on this basis in the Council of Ministers. Instead it has been accepted without any sign of protest.
Last December discrimination went a stage further. On top of the now routine usage-related discrimination, Greece and Ireland were offered a bonus in recognition of their geographical position on the periphery of the Community. Again, Britain could have vetoed this proposal in the Council unless our peripheral position was also granted similar recognition. Instead the proposal was accepted. As a result British hauliers' share of these most valuable permits was still further reduced.
Ministers have an enormous workload, and cannot be criticised for giving priority to matters which generate high political interest. Until now permits and quotas have not fallen into that category. Perhaps the RHA International Functional Group's current review of policy ought to consider whether this state of affairs should be altered. I see little possibility of substantial improvement until it is changed. REG DAWSON West London