Industrial
21st August 1982
Page 41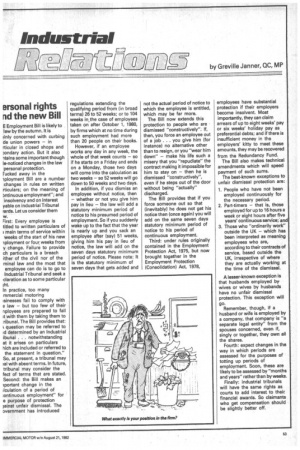 Page 41, 21st August 1982 —
Industrial
Close
by Greville Janner, QC, MP
ersonal rights nd the new Bill
E Employment Bill is likely to law by the autumn. It is iinly concerned with curbing de union powers — in rticular in closed shops and ondary action. But it also itains some important though le-noticed changes in the law personal protection.
rucked away in the iployment Bill are a number changes in rules on written rticulars; on the meaning of pntinuous employment"; and insolvency and on interest yable on industrial Tribunal Yards. Let us consider them w.
9rst: Every employee is titled to written particulars of ; main terms of service within weeks of the start of his new iployment or four weeks from y change. Failure to provide ch particulars is a breach ither of the civil nor of the minal law and the most that employee can do is to go to Industrial Tribunal and seek a claration as to some particular Iht.
In practice, too many mmercial motoring isinesses fail to comply with
law — but too few of their nployees are prepared to fall it with them by taking them to ribunal. The Bill provides that: 1 question may be referred to id determined by an Industrial
ibunal . notwithstanding at it arises on particulars nich are included or referred to
the statement in question." So, at present, a tribunal may :al with absent terms. In future, tribunal may consider the fect of terms that are stated. Second: the Bill makes an Iportant change in the Ilculation of a period of :ontinuous employment" for e purpose of protection painst unfair dismissal. The Dvernment has introduced
regulations extending the qualifying period from (in broad terms) 26 to 52 weeks; or to 104 weeks in,the case of employees taken on after October 1, 1980, by firms which at no time during such employment had more than 20 people on their books.
However, if an employee works any day in any week, the whole of that week counts — so if he starts on a Friday and ends on a Monday, those two days will come into the calculation as two weeks — so 52 weeks will go down to 50 weeks and two days.
In addition, if you dismiss an employee without notice, then — whether or not you give him pay in lieu — the law will add a statutory minimum period of notice to his presumed period of employment. So if you suddenly wake up to the fact that the year is nearly up and you sack an employee after (say) 51 weeks, giving him his pay in lieu of notice, the law will add on the seven days statutory minimum period of notice. Please note: It is the statutory minimum of seven days that gets added and not the actual period of notice to which the employee is entitled, which may be far more.
The Bill now extends this protection to people who are • dismissed "constructively". If, then, you force an employee out of a job . . . you give him (for instance) no alternative other than to resign, or you "wear him down" — make his life such a misery that you "repudiate" the contract making it impossible for him to stay on — then he is dismissed "constructively", even if he steps out of the door without being "actually" discharged.
The Bill provides that if you force someone out so that (inevitably) he does not get his notice then (once again) you will add on the same seven days statutory minimum period of notice to his period of continuous employment.
Third: under rules originally contained in the Employment Protection Act, 1975, but now brought together in the Employment Protection (Consolidation) Act, 1978, employees have substantial protection if their employers become insolvent. Most importantly, they can claim arrears of up to eight weeks' pay or six weeks' holiday pay as preferential debts; and if there is insufficient money in the employers' kitty to meet these amounts, they may be recovered from the Redundancy Fund.
The Bill also makes technical amendments which will speed payment of such sums.
The best-known exceptions to unfair dismissal protection are: 1. People who have not been employed continuously for the necessary period.
2. Part-timers — that is, those employed for up to 16 hours a week or eight hours after five years' continuous service;'and 3. Those who "ordinarily work" outside the UK — which has been interpreted as meaning employees who are according to their contracts of service, based outside the UK, irrespective of where they are actually working at the time of the dismissal.
A lesser-known exception is that husbands employed by wives or wives by husbands have no unfair dismissal protection. This exception will go.
Remember, though, if a husband or wife is employed by a company, that company is "a separate legal entity" from the spouses concerned, even if, singly or together, they own all the shares.
Fourth: expect changes in the way in which periods are assessed for the purposes of totting up periods of employment. Soon, these are likely to be assessed by "months and years" rather than by weeks.
Finally: industrial tribunals will have the same rights as courts to add interest to their financial awards. So claimants who get compensation should be slightly better off.