Tebbit calls for pay sense in next round
21st August 1982
Page 4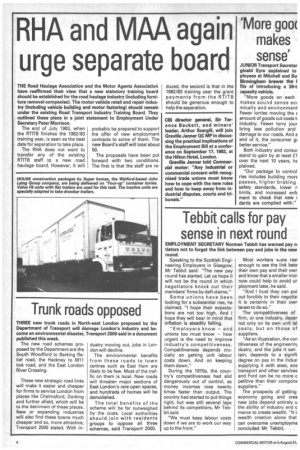 Page 4, 21st August 1982 —
Tebbit calls for pay sense in next round
Close
EMPLOYMENT SECRETARY Norman Tebbit has warned pay nl tiators not to forget the link between pay and jobs in the new round.
Speaking to the Scottish Engineering Employers in Glasgow, Mr Tebbit said: "The new pay round has started. Let us hope it will not be the round in which negotiators knock out their members' firms by daft claims."
Some unions have been looking for a substantial rise, he claimed. "I hope their expectations are not too high. And I hope they will bear in mind that inflation is steadily falling.
"Employers know — and unions too must know — how urgent is the need to improve industry's competitiveness. Competitiveness depends crucially on getting unit labour costs down. And on keeping them down."
During the 1970s, the country's competitiveness had slid dangerously out of control, as money incomes rose twenty times faster than output. The country had started to put things right, but was still several laps behind its competitors, Mr Tebbit said.
"We must keep labour costs down if we are to work our way up to the front." Most workers ware real enough to see the link betel their own pay and their own and know that a smaller incn now could help to avoid un ployrnent later, he said.
"And I trust they can poi out forcibly to their negotial It is certainly in their own terest to do so."
The competitiveness of firm, or one industry, deper not only on its own unit !at costs, but on those of suppliers.
"As' an illustration, the con titiveness of the engineerinc dustry, and the jobs it can tam, depends to a signifi, degree on pay in the rndusi supplying it with steel, ene transport and other services and Ford can be no more c petitive than their componE suppliers."
The prospects of getting economy going and crea new jobs depend entirely u the ability of industry and c merce to create wealth. "It ir wealth creation alone that can overcome unemployme concluded Mr Tebbit.