Enter the Grousewagon
21st August 1982
Page 35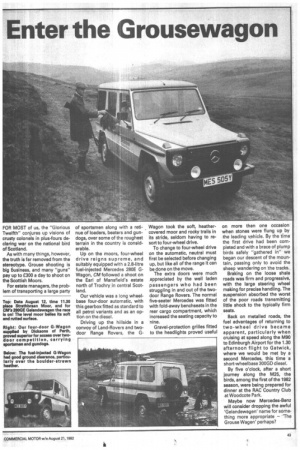 Page 35, 21st August 1982 —
Enter the Grousewagon
Close
FOR MOST of us, the "Glorious Twelfth" conjures up visions of crusty colonels in plus-fours declaring war on the national bird of Scotland.
As with many things, however, the truth is far removed from the stereotype. Grouse shooting is big business, and many "guns" pay up to E300 a day to shoot on the Scottish Moors.
For estate managers, the problem of transporting a large party of sportsmen along with a retinue of loaders, beaters and gundogs, over some of the roughest terrain in the country is considerable.
Up on the moors, four-wheel drive reigns supreme, and suitably equipped with a 2.8-litre fuel-injected Mercedes 280E GWagon, CM followed a shoot on the Earl of Mansfield's estate north of Trochry in central Scotland.
Our vehicle was a long wheelbase four-door automatic, with this gearbox fitted as standard to all petrol variants and as an option on the diesel.
Driving up the hillside in a convoy of Land-Rovers and twodoor Range Rovers, the G Wagon took the soft, heathercovered moor and rocky trails in its stride, seldom having to resort to four-wheel drive.
To change to four-wheel drive on the automatic, neutral must first be selected before changing up, but like all of the range it can be done on the move.
The extra doors were much appreciated by the well laden passengers who had been struggling in and out of the twodoor Range Rovers. The normal five-seater Mercedes was fitted with fold-away benchseats in the rear cargo compartment, which increased the seating capacity to nine.
Gravel-protection grilles fitted to the headlights proved useful on more than one occasion when stones were flung up by the leading vehicle. By the time the first drive had been completed and with a brace of plump birds safely "gathered in" we began our descent of the mountain, passing only to avoid the sheep wandering on the tracks.
Braking on the loose shale roads was firm and progressive, with the large steering wheel making for precise handling. The suspension absorbed the worst of the poor roads transmitting little shock to the typically firm seats.
Back on metalled roads, the fuel advantages of returning to two-wheel drive became apparent, particularly when cruising at speed along the M90 to Edinburgh Airport for the 1.30 afternoon flight to Gatwick, where we would be met by a second Mercedes, this time a short-wheelbase 300GD diesel.
By five o'clock, after a short journey along the M25, the birds, among the first of the 1982 season, were being prepared for dinner at the RAC Country Club at Woodcote Park.
Maybe now Mercedes-Benz will consider dropping the awful 'Gelandewagen' name for something more appropriate — 'The Grouse Wagen' perhaps?