Counting blessings
21st August 1982
Page 30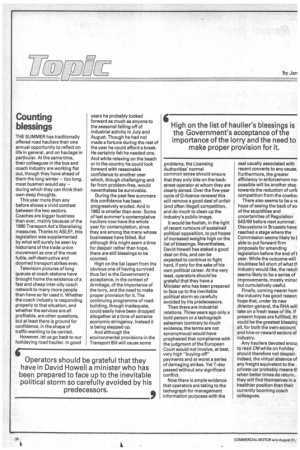 Page 30, 21st August 1982 —
Counting blessings
Close
THE SUMMER has traditionally offered road hauliers their one annual opportunity to reflect on life in general, and on haulage in particular. At the same time, their colleagues in the bus and coach industry are working flat out, though they have ahead of them the long winter — too long, most busmen would say — during which they can think their own deep thoughts.
This year more than any before shows a vivid contrast between the two sectors. Coaches are bigger business than ever, mainly because of the 1980 Transport Act's liberalising measures. Thanks to ASLEF, this legislation was supplemented by what will surely be seen by historians of the trade union movement as one of the most futile, self-destructive and doomed transport strikes ever.
Television pictures of long queues at coach stations have brought home the existence of a fast and cheap inter-city coach network to many more people than have so far used it. Whether the coach industry is responding properly to that situation, and whether the services are all profitable, are other questions, but at least there is ground for confidence, in the shape of traffic wanting to be carried.
However, let us go back to our holidaying road haulier. In good years he probably looked forward as much as anyone to the seasonal falling off of industrial activity in July and August. Though he had not made a fortune during the rest of the year he could afford a break. He certainly felt he needed one. And while relaxing on the beach or in the country he could look forward with reasonable confidence to another year which, though challenging and far from problem-free, would nevertheless be survivable.
During the past few summers this confidence has been progressively eroded. And in 1982 is smaller than ever. Some of last summer's contemplative hauliers now have the whole year for contemplation, since they are among the many whose businesses have failed. But although this might seem a time for despair rather than hope, there are still blessings to be counted.
High on the list (apart from the obvious one of having survived thus far) is the Government's acceptance, in the context of Armitage, of the importance of the lorry, and the need to make proper provision for it. The continuing programme of roadbuilding, though inadequate, could easily have been dropped altogether at a time of extreme economic stringency. Instead it is being stepped up.
And although the environmental provisions in the Transport Bill will cause some problems, the Licensing Authorities' normal common sense should ensure that they only bite on the backstreet operator at whom they are clearly aimed. Over the five-year cycle of 0-licence renewal this will remove a good deal of unfair (and often illegal) competition, and do much to clean up the industry's public image.
It would be foolish, in the light of recent rumours of sustained political opposition, to put hopes of increased weights high on the list of blessings. Nevertheless, David Howell has staked a good deal on this, and can be expected to continue to fight hard, if only for the sake of his own political career. At the very least, operators should be grateful that they have a Minister who has been prepared to face up to the inevitable political storm so carefully avoided by his predecessors.
Then there are industrial relations. Three years ago only a bold person or a tachograph salesman (contrary to much evidence, the terms are not synonymous) would have prophesied that compliance with the judgment of the European Court would not involve, at best, very high "buying-off" payments and at worst a series of damaging strikes. Yet T-day passed without any significant conflict.
Now there is ample evidence that operators are taking to the tachograph for management information purposes with the zeal usually associated with recent converts to any cause. Furthermore, the greater efficiency in enforcement no possible will be another step towards the reduction of unfe competition from the cowbo) There also seems to be a re hope of seeing the back of so of the stupidities and uncertainties of Regulation 543/69 before next summer. Discussions in Brussels have reached a stage where the Commission seems likely to t able to put forward firm proposals for amending legislation before the end of t year. While the outcome will doubtless fall short of what ti' industry would like, the result seems likely to be a series of improvements, mostly minor but cumulatively useful.
Finally, coming nearer horn the industry has good reason hope that, under its new director-general, the RHA will take on a fresh lease of life. If present hopes are fulfilled, thi could be the greatest blessing all, for both the own-account and hire-or-reward sectors of industry.
Any hauliers devoted enoul to read CMwhile on holiday should therefore not despair. Indeed, the virtual absence of any freight equivalent to the private car probably means th when better times do return, they will find themselves in a healthier position than their currently booming coach colleagues.