1983 at least, is Wood postpones
21st August 1982
Page 3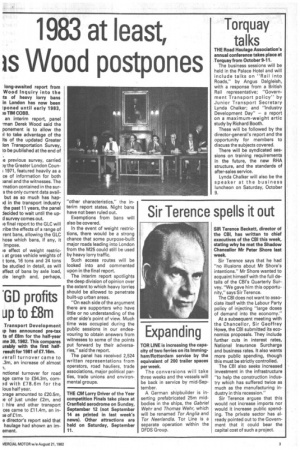 Page 3, 21st August 1982 —
1983 at least, is Wood postpones
Close
long-awaited report from Wood Inquiry into the is of heavy lorry bans in London has now been tponed until early 1983, rs TIM COBB.
an interim report, panel -man Derek Wood said the ponement is to allow the to take advantage of the Its of the updated Greater Ion Transportation Survey, to be published at the end of
e previous survey, carried )y the Greater London Couni 1971, featured heavily as a ce of information for both )anel and the witnesses. The .mation contained in the sur
s the only current data availbut as so much has hapid in the transport industry the past 11 years, the panel Jecided to wait until the upel survey comes out.
le final report to the GLC will ;ribe the effects of a range of rent bans, allowing the GLC hose which bans, if any, it impose.
le effect of weight restric; at gross vehicle weights of t tons, 16 tons and 24 tons be studied in detail, as will 3ffect of bans by axle load, cle length and, perhaps, "other characteristics," the interim report states. Night bans have not been ruled out.
Exemptions from bans will also be covered.
In the event of weight restrictions, there would be a strong chance that some purpose-built major roads leading into London from the M25 could still be used by heavy lorry traffic.
Such access routes will be looked into and commented upon in the final report.
The interim report spotlights the deep division of opinion over the extent to which heavy lorries should be allowed to penetrate built-up urban areas.
"On each side of the argument there are supporters who have little or no understanding of the other side's point of view. Much time was occupied during the public sessions in our endeavouring to obtain answers from witnesses to some of the points put forward by their adversaries," said the report.
The panel has received 2,524 written representations from operators, road hauliers, trade associations, major political parties, trade unions and environmental groups.