by The Hawk 'sing money ithout trying
21st August 1982
Page 21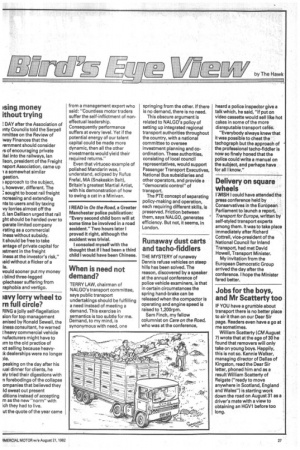 Page 21, 21st August 1982 —
by The Hawk 'sing money ithout trying
Close
DAY after the Association of inty Councils told the Serpell nmittee on the Review of way Finances that the fernment should consider rs of encouraging private ital into the railways, Ian lison, president of the Freight nsport Association, came up a somewhat similar gestion.
; approach to the subject,
however, different. The sought to boost rail freight ncreasing and extending its to users and by taxing vy lorries almost off the J. Ian Dallison urged that rail ght should be handed over to parate limited company rating as a commercial mess without subsidy. It should be free to take antage of private capital for )stment in the freight mess at the investor's risk," raid without a flicker of a le. vould sooner put my money blind three-legged plechaser suffering from raphobia and vertigo.
levy lorry wheel to rn full circle?
RING a jolly self-flagellation sion for top management anised by Ronald Sewell, the mess consultant, he warned t heavy commercial vehicle nufacturers might have to irn to the old practice of ,ct selling because heavy:lc dealerships were no longer )le. peaking on the day after his lual dinner for clients, he sly tried their digestions with n forebodings of the collapse ompanies that believed they Id sweat out present ditions instead of accepting m as the new "norm" with Ich they had to live. ut the quote of the year came from a management expert who said: "Countless motor traders suffer the self-inflictment of noneffectual leadership. Consequently performance suffers at every level. Yet if the potential energy of our talent capital could be made more dynamic, then all the other investments would yield their required returns."
Even that virtuoso example of polished Mandarin was, I understand, eclipsed by Rufus Frefal, MA (Snakeskin Belt), Britain's greatest Martial Artist, with his demonstration of how to swing a cat in a Minivan.
When is need not demand?
TERRY LAW, chairman of NALGO's transport committee, says public transport undertakings should be fulfilling a need instead of meeting a demand. This exercise in semantics is too subtle for me. Demand, to my mind, is synonymous with need, one springing from the other. If there is no demand, there is no need. This obscure argument is related to NALGO's policy of setting up integrated regional transport authorities throughout the country, with a national committee to oversee investment planning and coordination. These authorities, consisting of local council representatives, would support Passenger Transport Executives, National Bus subsidiaries and other operators, and provide a "democratic control" of transport. The PTE concept of separating policy-making and operation, each requiring different skills, is preserved. Friction between them, says NALGO, generates efficiency. But not, it seems, in London.
Runaway dust carts and tacho-fiddlers
THE MYSTERY of runaway Dennis refuse vehicles on steep hills has been solved. The reason, discovered by a speaker at the annual conference of police vehicle examiners, is that in certain circumstances the spring hand-brake can be released when the compactor is operating and engine speed is raised to 1,200rpm.
Sam Finch, my fellow columnist on Care on the Road, who was at the conference,
heard a police inspector give a talk which, he said, "if put on video cassette would sell like hot cakes in some of the more disreputable transport cafes. "Everybody always knew that it was possible to cheat the tachograph but the approach of the professional tacho-fiddler is now so finely honed that the police could write a manual on the subject, and perhaps have for all I know."
Delivery on square wheels
I WISH I could have attended the press conference held by Conservatives in the European Parliament to launch a report, Transport for Europe, written by self-styled transport experts among them. It was to take place immediately after Richard Cottrell, vice-president of the National Council for Inland Transport, had met David Howell, Transport Minister.
My invitation from the European Democratic Group arrived the day after the conference. I hope the Minister fared better.
Jobs for the boys, and Mr Scatterty too
IF YOU have a grumble about transport there is no better place to air it than on our Dear Sir page. Readers even have a go at me sometimes. William Scatterty (CM August 7) wrote that at the age of 30 he found that removers will only take on young boys. Happily, this is not so. Kehnie Walker, managing director of Dallas of Kingston, read the Dear Sir letter, phoned him and as a result William Scatterty of Reigate ("ready to move anywhere in Scotland, England and Wales") is starting work down the road on August 31 as a driver's mate with a view to obtaining an HGV1 before too long.