Call in the builders
21st August 1982
Page 2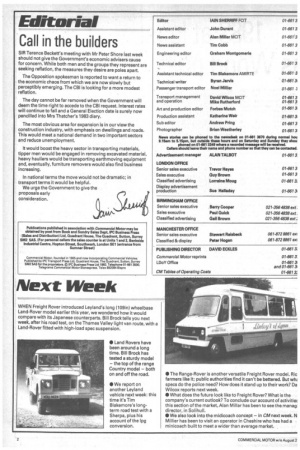 Page 2, 21st August 1982 —
Call in the builders
Close
SIR Terence Beckett's meeting with Mr Peter Shore last week should not give the Government's economic advisers cause for concern. While both men and the groups they represent are seeking reflation, the measures they desire are poles apart.
The Opposition spokesman is reported to want a return to the economic chaos from which we are now slowly but perceptibly emerging. The CBI is looking for a more modest reflation.
The day cannot be far removed when the Government will deem the time right to accede to the CBI request. Interest rates will continue to fall and a General Election date is surely now pencilled into Mrs Thatcher's 1983 diary.
The most obvious area for expansion is in our view the construction industry, with emphasis on dwellings and roads. This would meet a national demand in two important sectors and reduce unemployment.
It would boost the heavy sector in transporting materials, tipper men would be engaged in removing excavated material, heavy hauliers would be transporting earthmoving equipment and, eventually, furniture removers would also find business increasing.
In national terms the move would not be dramatic; in transport terms it would be helpful.
We urge the Government to give the proposals early consideration.