Taking the cash, avoiding the cosh
21st August 1982
Page 17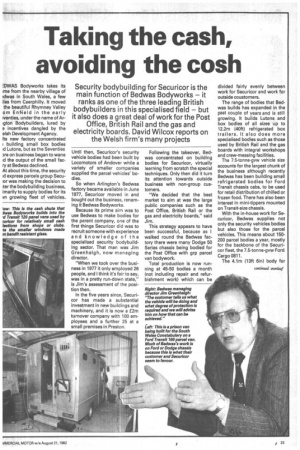 Page 18
Page 19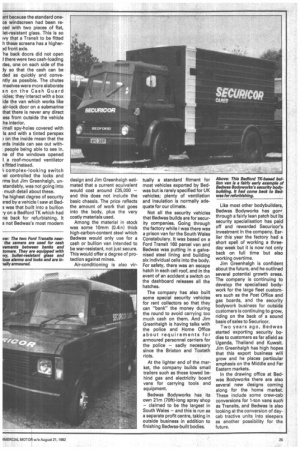 Page 17, 21st August 1982 —
Taking the cash, avoiding the cosh
Close
Security bodybuilding for Securicor is the main function of Bedwas Bodyworks — it ranks as one of the three leading British bodybuilders in this specialised field — but it also does a great deal of work for the Post Office, British Rail and the gas and electricity boards. David Wilcox reports on the Welsh firm's many projects
iDWAS Bodyworks takes its r•rte from the nearby village of odwas in South Wales, a few ilea from Caerphilly. It moved the beautiful Rhymney Valley om EnNeld in the early Iventies, under the name of ArIgton Bodybuilders, lured by e incentives dangled by the elsh Development Agency.
Its new factory concentrated building small box bodies Lutons, but as the Seventies )re on business began to wane Id the output of the small faciy at Bedwas declined.
At about this time, the security Id express parcels group Secu:or was making the decision to ter the bodybuilding business, imarily to supply bodies for its vn growing fleet of vehicles. Until then, Securicor's security vehicle bodies had been built by Locomotors of Andover while a variety of smaller companies supplied the parcel vehicles' bodies.
So when Arlington's Bedwas factory became available in June 1977, Securicor moved in and bought out the business, renaming it Bedwas Bodyworks.
Because its prime aim was to use Bedwas to make bodies for the parent company, one of the first things Securicor did was to recruit someone with experience and knowledge of the specialised security bodybuilding sector. That man was Jim Greenhalgh, now managing director.
"When we took over the business in 1977 it only employed 26 people, and I think it's fair to say, was in a pretty run-down state," is Jim's assessment of the position then.
In the five years since, Securicor has made a substantial investment in new buildings and machinery, and it is now a E2m turnover company with 100 employees and a further 25 at a small premises in Preston. Following the takeover, Bedwas concentrated on building bodies for Securicor, virtually learning from scratch the special techniques. Only then did it turn its attention towards outside business with non-group customers.
"We decided that the best market to aim at was the large public companies such as the Post Office, British Rail or the gas and electricity boards," said Jim.
This strategy appears to have been successful, because as I walked round the Bedwas factory there were many Dodge 50 Series chassis being bodied for the Post Office with grp parcel van bodywork.
Total production is now running at 45-50 bodies a month (not including repair and refurbishment work) which can be divided fairly evenly between work for Securicor and work for outside coustomers.
The range of bodies that Bedwas builds has expanded in the past couple of years and is still growing. It builds Lutons and box bodies of all sizes up to 12.2m (401) refrigerated box trailers. It also does more specialised bodies such as those used by British Rail and the gas boards with integral workshops and crew-messing facilities.
The 7.5-tonne-gvw vehicle size accounts for the largest chunk of the business although recently Bedwas has been building small refrigerated bodies for Ford Transit chassis cabs, to be used for retail distribution of chilled or frozen food. There has also been interest in mini-tippers mounted on Transit-size chassis.
With the in-house work for Securicor, Bedwas supplies not only the security vehicles bodies but also those for the parcel vehicles. This means about 150200 parcel bodies a year, mostly for the backbone of the Securicor fleet, the 7.5-tonne-gvw Ford Cargo 0811.
The 4.1m (13ft 6in) body for these 7.5-tonners was first designed for the Cargo's predecessor, the D-Series, but has been updated for the Cargo. Jim Greenhalgh described it as "a fairly high specification box body."
Although Bedwas has noticed a trend towards the use of grp for this type of body, the Securicor specification calls for alloy sheeting on the alloy frame. This is because of the better fire resistance of alloy which Securicor feels is important, bearing in mind the value of some of the parcels being carried.
Edges and corners of the body are radiused rather than squared, as they used to be on the earlier bodies. The rear doors are also of a new design for Bedwas. They are made from hollow extruded alloy planking with a plywood inner face to add rigidity The top-to-bottom locking bars run inside the door rather than on the outside, with the handle in a recess on the outer face. For security, there is an integral lock as well as room for a padlock. The neoprene seal runs round on the inside of the door.
The combination of these design features gives a light but rigid door with no externally visible locking bars or thick seals to break up the livery or collect dirt.
For internal protection, the body is lined with plywood and has a life expectancy of two or three chassis lives. The body is also offered for outside customers. Although this general bodybuilding is a vital part of Bedwas Bodyworks, the company regards security bodywork as its speciality. Jim Greenhalgh says that Bedwas is now one of the three leading British bodybuilders in this specialised field, which reflects a fairly rapid rise in the five years since Securicor took over.
Although the rise obviously owes much to Securicor, Bedwas has always shown a willingness to look beyond the parent company and will build security bodies for other security cornpanies. So far these have all been fairly small or local companies, but it is quite possible that Bedwas would build for one of Securicor's national rivals.
Explained Jim Greenhalgh: "It is all business to us and if it means that Securicor's competitors have more secure vehicles that is also good news. Better vehicles can eventually lead to lower insurance premiums for everyone, including Securicor."
Securicor's fleet of vehicles is both large and varied and this means a correspondingly varied range of bodywork for Bedwas. A walk past a line of finished vehicles awaiting delivery demonstrated this.
The first vehicle we came to was a Ford Transit panel van destined for the parcels fleet. All Bedwas had done to it was to line it with plywood to improve the residual value, fix grills at the rear windows and install an extra lock and alarm on the rear doors.
But the next vehicle definitely came into the security category. It was another Ford Transit panel van, a 120 model, to be used for Securicor's Cash Guard service which collects small to medium amounts of cash from shops, clubs and pubs for banking. Because it was a cash-carrying vehicle it was designed for twoman operation: one man passes the money through a cash-loading chute built into the rear offside door while the man inside immediately transfers it to an integral vault in the van from where it cannot be retrieved by either man.
Ford's standard rear-door windows are panelled in the Bedwas and small bandit-resistant windows put in their place. Although the van's windscreen and side windows look perfectly normal they are also made of bandit-resistant glass.
All the interior of the body is lined with a type of armoured alloy sheeting. Jim Greenha explained that there are m, grades of this armouring protecting alloy in various grees of thickness and hardn( For instance, sometimes a ticularly hard alloy may pros good bullet resistance whil soft alloy may be good pro tion against an attack with axe — the soft alloy will ten( close around the axe head rr ing it difficult to withdraw on has penetrated.
"It's a case of looking at proposed use of the vehicle, ciding what degree of protea will be required and then cht ing the right specification of ing material for the armo said Jim.
A Transit 190, also in Sec cor colours, was the n example of Bedwas's sect bodywork. This was to be u for moving larger amount: cash to and from banks s offered a higher degree of tection. This Transit looked
ant because the standard onece windscreen had been reced with two pieces of flat, let-resistant glass. This is so ivy that a Transit to be fitted h these screens has a higherad front axle.
'he back doors did not open there were two cash-loading ites, one on each side of the iy so that the cash can be ded as quickly and convently as possible. The chutes mselves were more elaborate an on the Cash Guard 'ides; they interact with a box ide the van which works like air-lock door on a submarine that there is never any direct ess from outside the vehicle he interior.
;mall spy-holes covered with Is and with a tinted perspex ) on the inside mean that the trds inside can see out withpeople being able to see in. ne of the windows opened a roof-mounted ventilator s fitted instead.
k complex-looking switch lel controlled the locks and rms but Jim Greenhalgh, unstandably, was not going into much detail about these.
he highest degree of security 3red by a vehicle I saw at Beds was that built into a bullion -y on a Bedford TK which had ne back for refurbishing. It s not Bedwas's most modern
design and Jim Greenhalgh estimated that a current equivalent would cost around £35,000 — and this does not include the basic chassis. The price reflects the amount of work that goes into the body, plus the very costly materials used.
Among the material in stock was some 10mm (0,4in) thick high-carbon-content steel which Bedwas would only use for a cash or bullion van intended to be war-resistant, not just secure. This would offer a degree of protection against mines.
Air-conditioning is also vir tually a standard fitment for most vehicles exported by Bedwas but is rarely specified for UK vehicles; plenty of ventilation and insulation is normally adequate for our climate.
Not all the security vehicles that Bedwas builds are for security companies. Going through the factory while I was there was a prison van for the South Wales Constabulary. It was based on a Ford Transit 160 parcel van and Bedwas was putting in a galvanised steel lining and building six individual cells into the body. For safety, there was an escape hatch in each cell roof, and in the event of an accident a switch on the dashboard releases all the hatches.
The company has also built some special security vehicles for rent collectors so that they can "bank" the money during the round to avoid carrying too much cash on them. And Jim Greenhalgh is having talks with the police and Home Office about requirements for armoured personnel carriers for the police — sadly necessary since the Brixton and Toxteth riots.
At the lighter end of the market, the company builds small trailers such as those towed behind gas and electricity board vans for carrying tools and equipment.
Bedwas Bodyworks has its own 21m (70ft)-long spray shop — claimed to be the largest in South Wales — and this is run as a separate profit centre, taking in outside business in addition to finishing Bedwas-built bodies. Like most other bodybuilders, Bedwas Bodyworks has gonf through a fairly lean patch but its security specialisation has paid off and rewarded Securicor's investment in the company. Earlier this year the factory had a short spell of working a threeday week but it is now not only back on full time but also working overtime.
Jim Greenhalgh is confident about the future, and he outlined several potential growth areas. The company is continuing to develop the specialised bodywork for the large fleet customers such as the Post Office and gas boards, and the security bodywork business for outside customers is continuing to grow, riding on the back of a sound basis of sales to Securicor.
Two years ago, Bedwas started exporting security bodies to customers as far afield as Uganda, Thailand and Kuwait. Jim Greenhalgh has high hopes that this export business will grow and he places particular emphasis on the Middle and Far Eastern markets.
In the drawing office at Bedwas Bodyworks there are also several new designs coming along for the home market. These include some crew-cab conversions for 1-ton vans such as Transits, and Bedwas is also looking at the conversion of daycab tractive units into sleepers as another possibility for the future.