seat design, the undamental things apply
21st August 1982
Page 15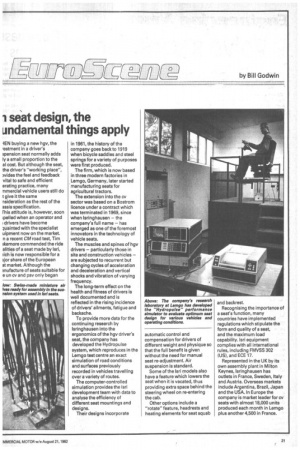 Page 15, 21st August 1982 —
seat design, the undamental things apply
Close
iEN buying a new hgv, the restment in a driver's ;pension seat normally adds ly a small proportion to the al cost. But although the seat, the driver's "working place", )vides the feel and feedback vital to safe and efficient erating practice, many rnmercial vehicle users still do t give it the same
isideration as the rest of the 3ssis specification.
ihis attitude is, however, soon pelled when an operator and drivers have become luainted with the specialist uipment now on the market. n a recent CM road test, Tim ikemore commended the ride alities of a seat made by lsri, lich is now responsible for a Or share of the European at market. Although the inufacture of seats suitable for e un cv and psv only began
in 1961, the history of the company goes back to 1919 when bicycle saddles and steel springs for a variety of purposes were first produced.
The firm, which is now based in three modern factories in • Lemgo, Germany, later started manufacturing seats for agricultural tractors.
The extension into the cv sector was based on a Bostrom licence under a contract which was terminated in 1969, since when lsringhausen — the company's full name — has emerged as one of the foremost innovators in the technology of vehicle seats.
The muscles and spines of hgv drivers — particularly those in site and construction vehicles — are subjected to recurrent but changing cycles of acceleration and deceleration and vertical shocks and vibration of varying frequency.
The long-term effect on the health and fitness of drivers is well documented and is reflected in the rising incidence of drivers' ailments, fatigue and backache.
To provide more data for the continuing research by lsringhausen into the ergonomics of the hgv driver's seat, the company has developed the Hydropulse system, which reproduces in the Lemgo test centre an exact simulation of road conditions and surfaces previously recorded in vehicles travelling over a variety of routes.
The computer-controlled simulation provides the lsri development team with data to analyse the efficiency of different seat mountings and designs.
Their designs incorporate automatic control and compensation for drivers of different weight and physique so that the full benefit is given without the need for manual seat re-adjustment. Air suspension is standard.
Some of the lsri models also have a feature which lowers the seat when it is vacated, thus providing extra space behind the steering wheel on re-entering the cab.
Other options include a "rotate" feature, headrests and heating elements for seat squab and backrest.
Recognising the importance of a seat's function, many countries have implemented regulations which stipulate the form and quality of a seat, and the maximum load capability. [sr' equipment complies with all international rules, including FMVSS 302 (US), and ECE 17.
Represented in the UK by its own assembly plant in Milton Keynes, lsringhausen has outlets in France, Sweden, Italy and Austria. Overseas markets include Argentina, Brazil, Japan and the USA. In Europe the company is market leader for cv seats with almost 18,000 units produced each month in Lemgo plus another 4,500 in France.