Volvo's versatile self-steer chassis
21st August 1982
Page 14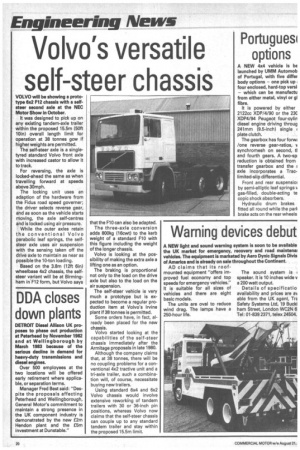 Page 14, 21st August 1982 —
Volvo's versatile self-steer chassis
Close
VOLVO will be showing a prototype 6x2 F12 chassis with a selfsteer second axle at the NEC Motor Show in October.
It was designed to pick up on any existing tandem-axle trailer within the proposed 15.5m (50ft 10in) overall length limit for operation at 38 tonnes gcw if higher weights are permitted.
The self-steer axle is a singletyred standard Volvo front axle with increased castor to allow it to track.
For reversing, the axle is locked-ahead the same as when travelling forward at speeds above 30mph.
The locking unit uses an adaption of the hardware from the Fidus road speed governer; the driver selects reverse gear, and as soon as the vehicle starts moving, the axle self-centres and is locked using air pressure.
While the outer axles retain the conventional Volvo parabolic leaf springs, the selfsteer axle uses air suspension with the sensing taken off the drive axle to maintain as near as possible the 10-ton loading.
Based on the 3.8m (12ft 6in) wheelbase 4x2 chassis, the selfsteer variant will be at Birmingham in-F12 form, but Volvo says
that the F10 can also be adapted.
The three-axle conversion adds 800kg (16cwt) to the kerb weight of a standard F10 with this figure including the weight of the longer chassis.
Volvo is looking at the possibility of making the extra axle a lifting one as an option.
The braking is proportional not only to the load on the drive axle but also to the load on the air suspension.
The self-steer vehicle is very much a prototype but is expected to become a regular production item at Volvo's Irvine plant if 38 tonnes is permitted.
Some orders have, in fact, already been placed for the new chassis.
Volvo started looking at the capabilities of the self-steer chassis immediately after the Armitage proposals in late 1980.
Although the company claims that, at 38 tonnes, there will be no coupling problems for a conventional 4x2 tractive unit and a tri-axle trailer, such a combination will, of course, necessitate buying new trailers.
Using standard 6x4 and 6x2 Volvo chassis would involve extensive reworking of tandem trailers with 30 or 36-inch pin positions, whereas Volvo now claims that the self-steer chassis can couple up to any standard tandem trailer and stay within the proposed 15.5m limit.