Skidchek goes East
21st August 1982
Page 10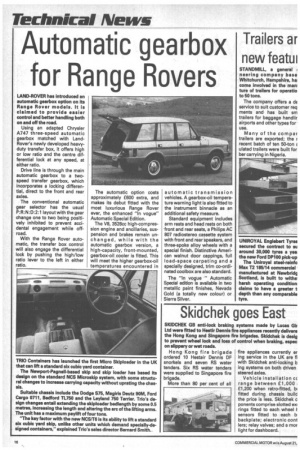 Page 10, 21st August 1982 —
Skidchek goes East
Close
SKIDCHEK GB anti-lock braking systems made by Lucas Gir Ltd were fitted to Hestlr Dennis fire appliances recently delivere the Hong Kong and Singapore fire brigades. Skidchek is desig to prevent wheel lock and loss of control when braking, espec on slippery or wet roads.
Hong Kong fire brigade ordered 10 Hestair Dennis DF snorkels and seven RS water tenders. Six RS water tenders were supplied to Singapore fire brigade.
More than 80 per cent of all fire appliances currently er ing service in the UK are fi with Skidchek anti-locking b ing systems on both driven steered axles.
Vehicle installation cc range between £1,000 £1,200 when retro-fitted, IN fitted during chassis build the price is less. Skidchek c ponents comprise slotted ex4 rings fitted to each wheel I. sensors fitted to each b backplate; electronic cont lers; relay valves; and a mor light for dashboard.