9tart planning for exams now
21st August 1970
Page 65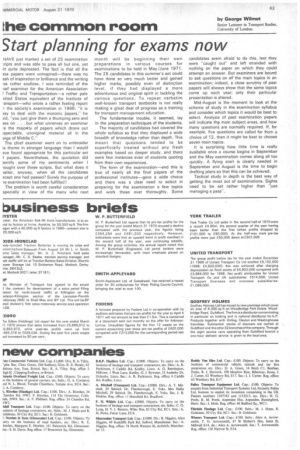 Page 65, 21st August 1970 —
9tart planning for exams now
Close
HAVE just marked a set of 25 examination ;ripts and was able to pass all but one, yet It quite depressed. The fact is that all the ass papers were uninspired—there was no ash of inspiration or brilliance and the writing 'as rather soulless. I was reminded of the lief examiner for the American Association f Traffic and Transportation—a rather pale nited States equivalent of the Institute of -ansoort—who wrote a rather feeling report the society's examination in 1966: "it is 3sy to deal with the moronic Papers,he aid, you just give them a thumping zero and ass on . . . but what unnerves an examiner -e the majority of papers which drone out spectable, unoriginal material all in the Inge of Middle C.
The chief examiner went on to embroider is theme in stronger language than I would aye found appropriate for this particular set f papers. Nevertheless, the quotation did lentify some of my sentiments when I sought over these scripts. But what does it latter, anyway, when all the candidates xcept one had passed? Surely the purpose of se examination had been fulfilled?
The problem is worth careful consideration specially in view of the many who next month will be beginning their own preparations in various courses for examinations to be held in May/June 1971. The 25 candidates in this summer's set could have done so very much better and gained higher marks, possibly even of distinction level, if they had displayed a more adventurous and original spirit in tackling the various questions. To repeat verbatim well-known transport textbooks is not really making a great deal of progress as a training for transport management education.
The fundamental trouble, it seemed, lay in the preparation techniques of the students.
The majority of candidates had covered the whole syllabus so that they displayed a wide breadth of knowledge rather than depth. This meant that questions tended to be superficially treated without any fresh examples based on deeper study, and there were few instances even of students quoting from their own experiences.
The form of the examination—and this is true of nearly all the final papers of the professional institutes—gave a wide choice and there was a clear need to select in preparing for the examination a few topics and work these over thoroughly, Some
candidates seem afraid to do this, lest they were -caught outand left stranded with nothing on the paper on which they could attempt an answer, But examiners are bound to ask questions on afl the main topics in an examination; indeed, a close scrutiny of past papers will always show that the same topics come up each year; only their particular presentation is altered.
Mid-August is the moment to look at the scheme of study in the examination syllabus and consider which topics it would be best to select. Analysis of past examination papers will indicate the main subject areas, and how many questions are normally required. If, for example, five questions are called for from a choice of 12, then it might be best to choose seven main topics.
It is surprising how little time is really available once a course begins in September and the May examination comes along all too quickly. A flying start is clearly needed in September and August is the time to begin drafting plans so that this can be achieved.
Tactical study in depth is the best way of getting the most out of examinations. Sights need to be set rather higher than "just managing a pass".