a We have a similar system of vehicle
21st August 1970
Page 63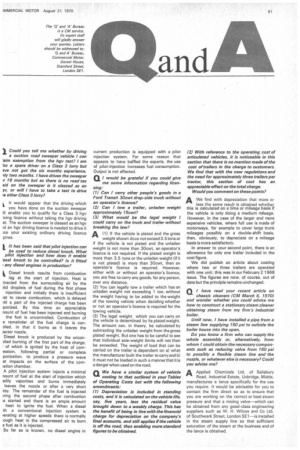 Page 63, 21st August 1970 —
a We have a similar system of vehicle
Close
costing to that outlined in your Tables of Operating Costs but with the following amendments: (1) Depreciation is included in standing costs, and it is calculated on the vehicle life, say, five years, less the residual value brought down to a weekly charge. This has the benefit of being in line with the financial charge for depreciation on the company's final accounts, and still applies if the vehicle is off the road, thus enabling more standard figures to be obtained. (2) With reference to the operating cost of articulated vehicles, it is noticeable in this section that there is no mention made of the cost of trailers in the charge to customers. We find that with the new regulations and the need for approximately three trailers per tractor, this section of cost has an appreciable effect on the total charge.
Would you comment on these points?
AWe find with depreciation that more or less the same result is obtained whether
this is calculated on a time or mileage basis if the vehicle is only doing a medium mileage. However, in the case of the larger and more expensive vehicles, where full use is made of motorways, for example to cover large trunk mileages possibly on a double-shift basis, then, obviously, to depreciate on a mileage basis is more satisfactory.
In answer to your second point, there is an allowance for only one trailer included in the cost figure.
We did publish an article about costing where two or three trailers are operated with one unit; this was in our February 2 1968 issue. The figures are now, of course. out of date but the principle remains unchanged.
/ have read your recent article on
chassis cleaners (CM March 6, 1970) and wonder whether you could advise me how to construct a stationary steam cleaner obtaining steam from my firm's industrial boiler.
Until now, I have installed a pipe from a steam line supplying 150 psi to ouiside the boiler house into the open.
Do you know a firm who can supply the whole assembly or, alternatively, from whom I could obtain the necessary components such as reducing valve from 150 psi to possibly a flexible steam line and the nozzle, or whatever else is necessary? Could you advise me?
A Applied Chemicals Ltd, of Salisbury
Road, Industrial Estate, Uxbridge, Middx. manufactures a lance specifically for the use you require. It would be advisable for you to contact the firm direct so as to ensure that you are working on the correct or best steam pressure and that a mixing valve—which can be obtained from any good-class engineering suppliers such as W. H. Wilcox and Co Ltd, of Southwark Street, London SE 1--isinstalled in the steam supply line so that sufficient saturation of the steam at the business end of the lance is obtained.