management matters
21st August 1970
Page 62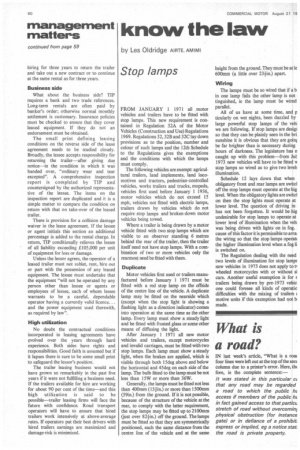 Page 62, 21st August 1970 —
management matters
Close
continued from page 59
hiring for three years to return the trailer and take out a new contract or to continue at the same rental as for three years.
Business side What about the business side? TIP requires a bank and two trade references. Long-term rentals are often paid by banker's order; otherwise normal monthly settlement is customary. Insurance policies must be checked to ensure that they cover leased equipment. If they do not an endorsement must be obtained.
The small print defining leasing conditions on the reverse side of the lease agreement needs to be studied closely. Broadly, the lessee accepts responsibility for returning the trailer—after giving due notice—in the condition in which it was handed over, "ordinary wear and tear excepted". A comprehensive inspection report is completed by TIP and countersigned by the authorized representative of the lessee. The items on the inspection report are duplicated and it is a simple matter to compare the condition on return with that on take-over of the leased trailer.
There is provision for a collision damage waiver in the lease agreement. If the lessee or agent initials this section an additional percentage is added to the rental charge. In return, TIP conditionally relieves the lessee of all liability exceeding £105,000 per unit of equipment for loss or damage.
Unless the lessor agrees, the operator of a leased trailer must not sublet, rent, hire out or part with the possession of any leased equipment. The lessee must undertake that the equipment "will not be operated by any person other than lessee or agents or employees of lessee, each of whom lessee warrants to be a careful, dependable operator having a currently valid licence. .. and the power equipment used therewith, as required by law".
High utilization No doubt the contractual conditions incorporated in leasing agreements have evolved over the years through hard experience. Both sides have rights and responsibilities. Good faith is assumed but if it lapses there is sure to be some small print to safeguard the lessor's position.
The trailer leasing business would not have grown so remarkably in the past five years if it were not fulfilling a business need. If the trailers available for hire are working for about 90 per cent of the time—and this high utilization is said to be possible—trailer leasing firms will face the future with confidence. Road transport operators will have to ensure that hired trailers work intensively at above-average rates. If operators put their best drivers with hired trailers earnings are maximized and damage-risk is minimized.