Road Safety Officer, Cadbury-SchweppeE and Secretary, AIRSO.
21st August 1970
Page 56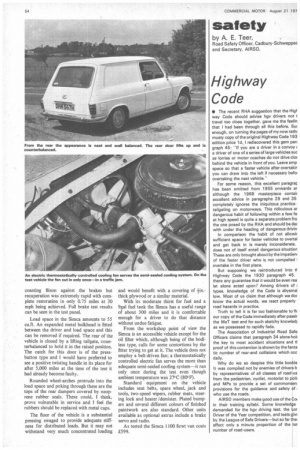 Page 56, 21st August 1970 —
Road Safety Officer, Cadbury-SchweppeE and Secretary, AIRSO.
Close
Highway Code
• The recent R HA suggestion that the High way Code should advise hgv drivers not travel too close together, gave me the feelin that I had been through all this before. Sur enough, on turning the pages of my now rathr musty copy of the original Highway Code 193 edition price 1d. I rediscovered this gem pan graph 45: "If you are a driver in a convoy a driver of one of a series of large vehicles suc as lorries or motor coaches do not drive do: behind the vehicle in front of you. Leave amp space so that a faster vehicle after overtakir you can draw into the left if necessary befo overtaking the next vehicle."
For some reason, this excellent paragrar has been omitted from 1955 onwards ar although the 1968 masterpiece contait excellent advice in paragraphs 29 and 35 completely ignores the iniquitous practice tailgating on motorways. This ridiculous ar dangerous habit of following within a few fe at high speed is quite a separate problem fro the one posed by the R HA and should be de with under the heading of dangerous drivin In comparison the habit of not allowir sufficient space for faster vehicles to °venal and get back in is merely inconsiderate. does not of itself entail dangerous situation These are only brought about by the impatien, of the faster driver who is not compelled overtake in the first place.
But supposing we reintroduced into ti Highway Code the 1930 paragraph 45. there any guarantee that it would be even rea let alone acted upon ? Among drivers of types, knowledge of the Code is abysmal low. Most of us claim that although we dor know the actual words, we react properly road hazards in practice.
Truth to tell it is far too fashionable to fk our copy of the Code immediately after passir the MoT test and for such sketchy knowledi as we possessed to rapidly fade.
The Association of Industrial Road Safe Officers claims that paragraph 34 alone hot the key to most accident situations and tl proof of this contention is shown by the fanta tic number of rear-end collisions which occ daily. Why do we so despise this little bookie It was compiled not by enemies of drivers b by representatives of all classes of road-us from the pedestrian, cyclist, motorist to polil and MPs to provide a set of commonsen provisions for the guidance and safety of who use the roads.
AIRSO members make good use of the Coi in their training syllabi. Some knowledge demanded for the hgv driving test. the Lor Driver of the Year competition, and tests givi by the League of Safe Drivers—but so far the: affect only a minute proportion of the tot number of road-users.