the costing column
21st August 1970
Page 45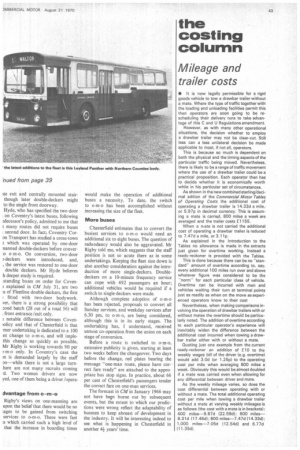 Page 45, 21st August 1970 —
the costing column
Close
Mileage and trailer costs
• It is now legally permissible for a rigid goods vehicle to tow a drawbar trailer without a mate. Where the type of traffic together with the loading and unloading facilities permit this then operators are soon going to be rescheduling their .delivery runs to take advantage of this C and U Regulations amendment.
However, as with many other operational situations, the decision whether to employ a drawbar trailer may not be clear-cut. Still less can a less unilateral decision be made applicable to most, if not all, operators.
This is because so much is dependent on both the physical and the timing aspects of the particular traffic being moved. Nevertheless, there is likely to be a range of traffic movement where the use of a drawbar trailer could be a practical proposition, Each operator then has to decide whether it is economically worth while in his particular set of circumstances.
As shown in the new combined sterling/decimal edition of the Commercial Motor Tables of Operating Costs the additional cost of operating a drawbar trailer is 14.33d a mile, or 5.97p in decimal currency. This is assuming a mate is carried, 800 miles a week are averaged and the trailer costs £1155.
When a mate is not carried the additional cost of operating a drawbar trailer is reduced to 7.47d a mile, or 3.11p.
As explained in the Introduction to the Tables no allowance is made in the extracts just given for overtime working. Instead a ready-reckoner is provided with the Tables.
This is done because there can be no "standard" amount of overtime according to, say, every additional 100 miles run over and above whatever figure was considered to be the "norm" for each particular class of vehicle. Overtime can be incurred with men and vehicles waiting their turn at terminal points just as readily as when on the move as experienced operators know to their cost Nevertheless, when making comparisons involving the operation of drawbar trailers with or without mates the overtime should be particularly noted. The addition of overtime according to each particular operator's experience will inevitably widen the difference between the additional cost incurred when towing a drawbar trailer either with or without a mate.
Quoting just one example from the current ready-reckoner an addition of 10 to the weekly wages bill of the driver (e.g. overtime) would add 3.0d (or 1.25p) to the operating cost per mile when averaging 800 miles a week. Obviously this would be almost doubled if a mate was carried even when allowing for any differential between driver and mate.
As the weekly mileage varies, so does the cost differential between operating with or without a mate. The total additional operating cost per mile when towing a drawbar trailer without a mate at varying weekly mileages is as follows (the cost with a mate is in brackets): 400 miles-9.87d (22.59d); 600 miles8.31d (17.46d); 800 miles-7.47d (14.33d); 1,000 miles-7.05d (12.54d) and 6.77d (11.35d).