Turbo Albions now in production
21st August 1970
Page 36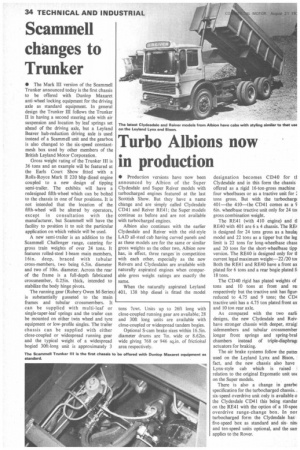 Page 36, 21st August 1970 —
Turbo Albions now in production
Close
• Production versions have now been announced by Albion of the Super Clydesdale and Super Reiver models with turbocharged engines featured at the last Scottish Show. But they have a name change and are simply called Clydesdale CD41 and Reiver RE41; the Super models continue as before and are not available with turbocharged engines.
Albion also continues with the earlier Clydesdale and Reiver with the old-style LAD all-steel cab having curved panels and as these models are for the same or similar gross weights as the other two. Albion now has, in effect, three ranges in competition with each other, especially as the new Reivers and Clydesdales are available with naturally aspirated engines when comparable gross weight ratings are exactly the same.
When the naturally aspirated Leyland 401, 138 bhp diesel is fitted the model designation becomes CD40 for ti Clydesdale and in this form the chassis offered as a rigid 16-ton-gross machine four wheelbases or as a tractive unit for tons gross. But with the turbocharp 401—the 410—the CD41 comes as a 9 fin, wheelbase tractive unit only for 24 to' gross combination weight.
The RE41 (with 410 engine) and ti RE40 with 401 are 6 x 4 chassis. The RE4 is designed for 24 tons gross as a haulal model and 22 tons as a tipper but the leg limit is 22 tons for long-wheelbase chass and 20 tons for the short-wheelbase tipp version. The RE40 is designed only for ti current legal maximum weight-22/20 tot Both the RE4 l and RE40 have a front ax plated for 6 tons and a rear bogie plated fi 18 tons.
The CD40 rigid has plated weights of tons and 10 tons at front and re respectively but the tractive unit has figuri reduced to 4.75 and 9 tons; the CD4 tractive unit has a 4.75 ton plated front ax and 10 ton rear axle.
As compared with the two earli designs, the new Clydesdale and Rely' have stronger chassis with deeper, straigl sidemembers and tubular crossmember longer front springs and spring-bral, chambers instead of triple-diaphragi actuators for braking.
The air brake systems follow the panel used on the Leyland Lynx and Bison, fact, and the new chassis also have Lynx-style cab which is raised i relation to the original Ergomatic unit ust on the Super models.
There is also a change in gearbo specification for the turbocharged chassis.. six-speed overdrive unit only is available o the Clydesdale CD41 this being standar on the RE41 with the option of a 10-spec overdrive range-change box. In nor turbocharged form the Clydesdale has five-speed box as standard and sixflirt( and ten-speed units optional, and the satr applies to the Rover.