&mailmen changes to Trunker
21st August 1970
Page 36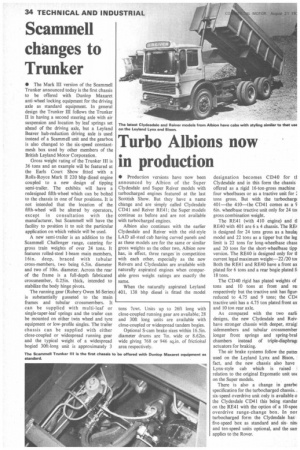 Page 36, 21st August 1970 —
&mailmen changes to Trunker
Close
• The Mark III version of the Scammell Trunker announced today is the first chassis to be offered with Dunlop Maxaret anti-wheel locking equipment for the driving axle as standard equipment. In general design the Trunker III follows the Trunker II in having a second steering axle with air suspension and location by leaf springs set ahead of the driving axle, but a Leyland Beaver hub-reduction driving axle is used instead of a Scammell unit and the gearbox is also changed to the six-speed constantmesh box used by other members of the British Leyland Motor Corporation.
Gross weight rating of the Trunker III is 36 tons and an example will be featured at the Earls Court Show fitted with a Rolls-Royce Mark II 220 bhp diesel engine coupled to a new design of tipping semi-trailer. The exhibits will have a redesigned fifth-wheel which can be bolted to the chassis in one of four positions. It is not intended that the location of the fifth-wheel will be altered by operators, except in consultation with the manufacturer, but Scammell will have the facility to position it to suit the particular application on which vehicle will be used.
A new semi-trailer is an addition to the Scammell Challenger range, catering for gross train weights of over 24 tons. It features rolled-steel I-beam main members, 16in. deep, braced with tubular cross-members, two being 6.5in. diameter and two of 10in. diameter. Across the rear of the frame is a full-depth fabricated crossmernber, 0.25in. thick, intended to stabilize the body hinge pivots.
The running gear (Rubery Owen M-Series ) is substantially gusseted to the main frames and tubular crossmembers. It can be supplied with multi-leaf or single-taper-leaf springs and the trailer can be mounted on either twin wheel and tyre equipment or low-profile singles. The trailer chassis can be supplied with either close-coupled or widespread running gear and the typical weight of a widespread bogied 30ft-long unit is approximately 3 tons 7cwt. Units up to 2611 long with close-coupled running gear are available; 28 and 30ft long units are available with close-coupled or widespread tandem bogies.
Optional S-cam brake sizes within 16.5in. diameter drums are 7in. wide or 8.62in. wide giving 768 or 946 sq.in. of frictional area respectively.