People
21st August 1970
Page 30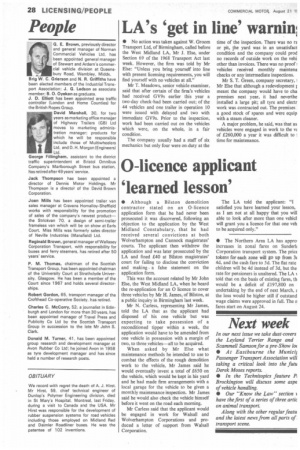 Page 30, 21st August 1970 —
People
Close
G. E. Brown, previously director and general manager of Norman Commercial Vehicles Ltd. has been appointed general manager of Stewart and Ardern's commercial vehicle division at Queensbury Road, Wembley, Middx. Brig W. C. Grierson and N. R. Griffiths have been elected members of the Industrial Transport Association; J. G. Ledson as associate member; B. 0. Oyekan as graduate.
J. D. Elliott has been appointed area traffic controller (London and Home Counties) for the f3ritish Ropes Group.
David Marshall, 30, for two years as marketing office manager of Highway Trailers (GB) Ltd moves to marketing administration manager; products for which he will be responsible include those of Multiwheelers Ltd. and D. H. Morgan (Engineers) Ltd.
George Fillingharn, assistant to the district traffic superintendent at Bristol Omnibus Company's Marlborough Street bus station, has retired after 49 years' service.
Jack Thompson has been appointed a director of Dennis Motor Holdings. Mr Thompson is a director of the David Brown Corporation.
Joan Mills has been appointed trailer van sales manager at Cravens Homalloy-Sheffield works with responsibility for the promotion of sales of the company's newest product— the Strickvan 70, a design of semi-trailer frameless van which will be on show at Earls Court. Miss Mills was formerly sales director of Neville Industries (Mansfield) Ltd.
Reginald Brown, general manager of Wallasey Corporation Transport, with responsibility for buses and ferry steamers, has retired after 50 years' service.
P. M. Thomas, chairman of the Scottish Transport Group, has been appointed chairman of the University Court at Strathclyde University, Glasgow. He has been a member of the Court since 1967 and holds several directorships.
Robert Gordon, 65, transport manager of the Crofthead Co-operative Society, has retired.
Charles C. McCarty, 52., a journalist in Edinburgh and London for more than 30 years, has been appointed manager of Travel Press and Publicity Co Ltd by the Scottish Transport Group in succession to the late Mr John S. Clark.
Donald M. Turner, 41, has been appointed group research and development manager at Avon Rubber Co Ltd; he joined Avon in 1958 as tyre development manager and has since held a number of research posts.
Tags
People
:
John S. Clark
,
Joan Mills
,
David Marshall
,
Reginald Brown
,
George Fillingharn
,
Donald M. Turner
,
Thomas
,
Jack Thompson
,
J. D. Elliott
,
Charles C. McCarty
,
Robert Gordon