London fares protest fizzles out
21st August 1970
Page 28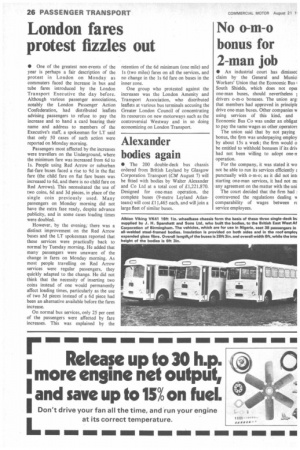 Page 28, 21st August 1970 —
London fares protest fizzles out
Close
• One of the greatest non-events of the year is perhaps a fair description of the protest in London on Monday as commuters faced the increase in bus and tube fares introduced by the London Transport Executive the day before. Although various passenger associations. notably the London Passenger Action Confederation, had distributed leaflets advising passengers to refuse to pay the increase and to hand a card bearing their name and address to members of the Executive's staff, a spokesman for LT said that only 50 cases of such action were reported on Monday morning.
Passengers most affected by the increases were travellers on the Underground, where the minimum fare was increased from 6d to Is. People using Red Arrow or suburban flat-fare buses faced a rise to 9d in the flat fare (the child fare on flat fare buses was increased to 6d, and there is no child fare on Red Arrows). This necessitated the use of two coins, 6d and 3d pieces, in place of the single coin previously used. Many passengers on Monday morning did not have the extra fare ready, despite advance publicity, and in some cases loading times were doubled.
However, by the evening; there was a distinct improvement on the Red Arrow buses and the LT spokesman reported that these services were practically back to normal by Tuesday morning. He added that many passengers were unaware of the change in fares on Monday morning. As most people travelling on Red Arrow services were regular passengers, they quickly adapted to the change. He did not think that the necessity of inserting two coins instead of one would permanently affect loading times, particularly as the use of two 3d pieces instead of a 6d piece had been an alternative available before the fares increase.
On normal bus services, only 25 per cent of the passengers were affected by fare increases. This was explained by the retention of the 6d minimum (one mile) and Is (two miles) fares on all the services, and no change in the Is 6d fare on buses in the inner zone.
One group who protested against the increases was the London Amenity and Transport Association, who distributed leaflets at various bus terminals accusing the Greater London Council of concentrating its resources on new motorways such as the controversial Westway and in so doing economizing on London Transport.