container I ransport
21st August 1970
Page 27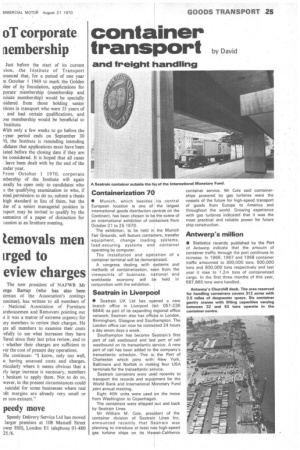 Page 27, 21st August 1970 —
container I ransport
Close
• Munich, which besides its central European location is one of the largest international goods distribution centres on the Continent, has been chosen to be the scene of . international nternational exhibition of containers from October 21.to 25 1970.
The exhibition, to be held in the Munich Fair Grounds, will feature containers, transfer equipment, change loading sistems, load-securing systems and container operating by computer.
The installation and operation of a container terminal will be demonstrated. A congress dealing with systems and methods of containerization, seen from the viewpoints of business, national and worldwide economy will be held in conjunction with the exhibition.
Seatrain in Liverpool
• Seatrain UK Ltd has opened a new branch office in Liverpool ftel: 051-236 6844) as part of its expanding regional office network; Seatrain also has offices in London, Birmingham, Glasgow and Southampton. The London office can now be contacted 24 hours a day seven days a week.
Southampton has become Seatrain's first port of call eastbound and last port of call westbound on its transatlantic service. A new port of call has been added to the company's transatlantic schedule. This is the Port of Charleston which joins with New York, Baltimore and Norfolk in making four USA terminals for the transatlantic service.
Seatrain containers were used recently to transport the records and equipment for the World Bank and International Monetary Fund joint annual meeting.
Eight 40ft units were used on the move from Washington to Copenhagen.
The containers were shipped out and back by Seatrain Lines.
Mr. William M. Cole, president of the container division of Seatrain Lines Inc, announced recently that Seatrain was planning to introduce at least two high-speed gas turbine ships on its Hawaii-California
container service. Mr Cole said containerships powered by gas turbines were the vessels of the future for high-speed .transport of goods from Europe to America and throughout the world. Growing experience with gas turbines indicated that it was the most practical and reliable power for future ship construction.
Antwerp's million
• Statistics recently published by the Port of Antwerp indicate that the amount of container traffic through the port continues to increase. In 1966, 1967 and 1968 container traffic amounted to 300,000 tons, 500,000 tons and 600,000 tons respectively and last year it rose to 1.2m tons of containerized cargo. In the first three months of this year, 687,865 tons were handled.
Tags
Locations
:
Norfolk
,
Munich
,
Antwerp
,
Southampton
,
Copenhagen
,
Washington
,
Glasgow
,
London
,
Birmingham
,
Baltimore
,
Liverpool
,
New York