;APS questionnaire ,oes to industry
21st August 1970
Page 25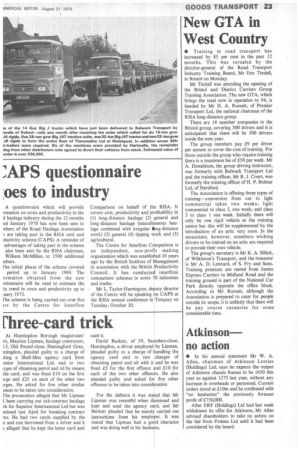 Page 25, 21st August 1970 —
;APS questionnaire ,oes to industry
Close
A questionnaire which will provide )rmation on costs and productivity in the d haulage industry during the 12 months ed January 1970 has now been sent to mbers of the Road Haulage Association 3 are taking part in the RHA cost and ductivity scheme (CAPS). A reminder of advantages of taking part in the scheme also been sent by the RHA chairman. William McMillan, to 1500 additional mbers.
fhe initial phase of the scheme covered period up to January 1969. The ormation obtained from the new :stionnaire will be used to estimate the iy trend in costs and productivity up to luary 1972.
fhe scheme is being carried out over five irs by the Centre for Interfirm Comparison on behalf of the RHA. It covers cost, productivity and profitability in (I) long-distance haulage (2) general and long-distance haulage (miscellaneous haulage combined with irregular )ong-distance work) (3) general (4) tipping work and (5) agricultural.
The Centre for Interfirm Comparison is an independent, non-profit making organization which was established 10 years ago by the British Institute of Management in association with the British Productivity Council. It has conducted interfirm comparison schemes in some 70 industries and trades.
Mr L. Taylor-Harrington, deputy director of the Centre will be speaking on CAPS at the RHA annual conference in Torquay on Tuesday, October 20.