Police to meet hauliers
21st August 1970
Page 24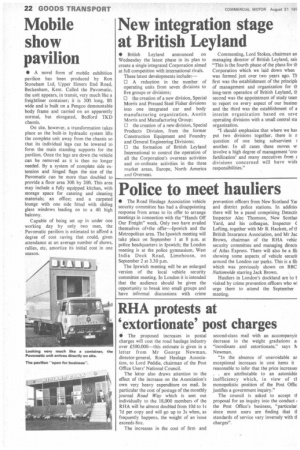 Page 24, 21st August 1970 —
Police to meet hauliers
Close
• The Road Haulage Association vehicle security committee has had a disappointing response from areas to its offer to arrange meetings in connection with the "Hands off Our Freight" week. Only two have availed themselves oft the offer—Ipswich and the Metropolitan area. The Ipswich meeting will take place on September 1 at 8 p.m. at police headquarters in Ipswich; the London meeting is at the police gymnasium, West India Dock Road, Limehouse, on September 2 at 330 p.m.
The Ipswich meeting will be an enlarged version of the local vehicle security committee meeting. In London it is intended that the audience should be given the opportunity to break into small groups and have informal discussions with crime prevention officers from New Scotland Yai and district police stations. In additio there will be a panel comprising Detectis Inspector Alec Thomson, New Scotian Yard, and his colleague, Inspector ( Lofting, together with Mr B. Hackett, of ti British Insurance Association, and Mr Jac Brown, chairman of the RHA vehic security committee and managing direct( of Atlas Express. There will also be a fib showing some aspects of vehicle securi1 around the London car parks. This is a fib which was previously shown on BBC Nationwide starring Jack Brown.
Hauliers in London's dockland are to E visited by crime prevention officers who w urge them to attend the September meeting.