)uple denies ake-over bid
21st August 1970
Page 23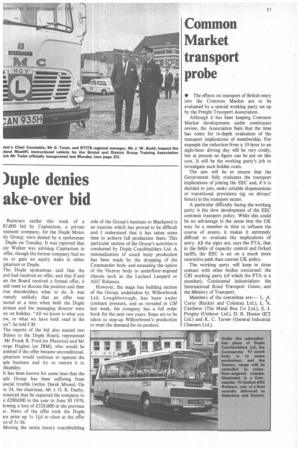 Page 23, 21st August 1970 —
)uple denies ake-over bid
Close
Rumours earlier this week of a 85,000 bid by Capitarium. a private 'estment company, for the Duple Motor dy Group, were denied by a spokesman Duple on Tuesday. It was reported that der Walker was advising Capitarium in offer, though the former company had no ins to gain an equity stake in either .pitarium or Duple.
The Duple spokesman said that the ard had received no offer, and that if and len the Board received a formal offer, it luld meet to discuss the position and then vise shareholders what to do. It was remely unlikely that an offer was )ected at a time when both the Duple airman and the managing director were
• ay on holiday. "All we know is what you ow, or what we have both read in the f...ss", he told CM.
The reports of the bid also named two ditions to the Duple Board, represented Mr Frank B. Ford (ex Plaxtons) and Mr :orge Hughes (ex IBM), who would be pointed if the offer became unconditional. ,pitarium would continue to operate the iple business and try to restore it to )fitability.
It has been known for some time that the iple Group has been suffering from ancial trouble (writes Derek Moses). On le 24, the chairman, Mr J. 0. R. Darby, nounced that he expected the company to
£200,000 in the year to June 30 1970. lowing a loss of 020,000 in the previous ar. News of the offer took the Duple are price up Is 11.,d to close at the offer ce of 5s 3d.
Moving the entire luxury coachbuilding side of the Group's business to Blackpool is an exercise which has proved to be difficult and I understand that it has taken some time to achieve full production there. This particular section of the Group's activities is conducted by Duple Coachbuilders Ltd. A rationalization of coach body production has been made by the dropping of the Commander body and extending the option of the Viceroy body to underfloor-engined chassis such as the Leyland Leopard or AEC Reliance.
However, the stage bus building section of the Group, undertaken by Willowbrook Ltd, Loughborough, has been under constant pressure, and as revealed in CM last week, the company has a full order book for the next two years. Steps are to be taken to step-up Willowbrook's production to meet the demand for its product.