Mud, motorways and Michelin mileage A.R.C.knows a lot about ail three
21st August 1970
Page 19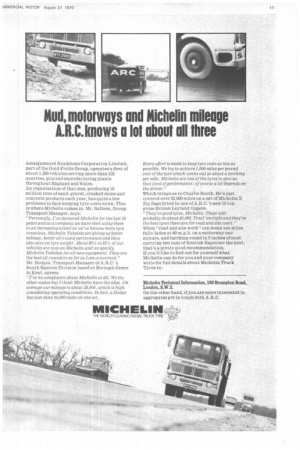 Page 19, 21st August 1970 —
Mud, motorways and Michelin mileage A.R.C.knows a lot about ail three
Close
Amalgamated Roadstone Corporation Limited, part of the Gold Fields Group, operates a fleet of about 1250 vehicles serving more than 125 quarries, pits and manufacturing plants throughout England and Wales.
An organisation of that size, producing 15 million tons of sand, gravel, crushed stone and concrete products each year, has quite a few problems to face keeping tyre costs down. This is where Michelin comes in. Mr. Relleen, Group Transport Manager. says: "Personally. I've favoured Michelin for the last 20 years and as a company we have been using them to an increasing extent as we've become more tyre conscious. Michelin Tubeless are giving us better mileage, better all-round performance and they also save on tyre weight. About 80% to 85% of our vehicles are now on Michelin and we sjoecify Michelin Tubeless for all new equipment. They are the best all-rounders as far as I am concerned." Mr. Hodges, Transport Manager of A.R.C.'s South Eastern Division based at Borough Green in Kent, agrees.
"I've no complaints about Michelin at all. We try other makes but I think Michelin have the edge. On average our mileage is about 38,000, which is high considering operating conditions. In fact, a Dodge has just done 54,000 miles on one set. Every effort is made to keep tyre costs as low as possible. We try to achieve 1,000 miles per pound . cost of the tyre which works out at about a farthing per mile. Michelin are one of the tyres to give us that kind of performance; of course a lot depends on
the driver." . • Which brings us to Charlie Booth. He's jqst covered over 32,000 miles on a set of Michelin X Zig Zags fitted to one of A.R.C.'s new 16 ton gross British Leyland tippers.
"They're good tyres, Michelin. These will probably do about 40,000. Treat' em right and they're the best tyres there are for road and site work." When "road and site work" can mean ten miles fully laden at 40 m.p.h. on a motorway one minute, and lurching round in 5 inches of mud carrying ten tons of Kentish Ragstone the next, that's a pretty good recommendation. If you'd like to find out for yourself what Michelin can do for you and your company write for full details about Michelin Truck Tyres to: