Foden-Crane Logging Outfit for Borneo
21st August 1959
Page 65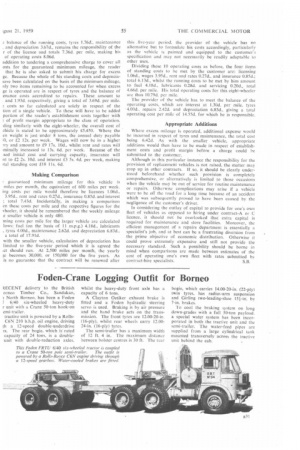 Page 65, 21st August 1959 —
Foden-Crane Logging Outfit for Borneo
Close
tECENT delivery to the British orneo Timber Co., Sandakan, North Borneo, has been a Foden 1 6/40 six-wheeled heavy-duty r unit with a Crane 50-ton hook-on cmi-trailer.
tractive unit is powered by a RollsC6N 210 b.h.p. oil engine, driving th a 12-speed double-underdrive rt. The rear bogie, which is rated capacity of 24 tons, is a doubleunit with double-reduction axles, whilst the heavy-duty front axle has a capacity of 6 tons.
A Clayton Oetiker exhaust brake is fitted and a Foden hydraulic steering servo is used. Braking is by air pressure and the hand brake acts on the transmission. The front tyres are 12.00-20-in. (16-ply), whilst rear wheels carry 12.0024-in. (16-ply) tyres.
The semi-trailer has a maximum width of 12 ft. 4 in. The maximum distance between bolster centres is 30 ft. The rear bogie, which carries 14.00-20-in. (22-ply) twin tyres, has radius-arm suspension and Girling two-leading-shoe 151-in'. by 7-in. brakes.
To cool the braking system on long down-grades with a full 50-ton payload. a special water system has been incorporated in both the tractive unit and the semi-trailer. The water-feed pipes are supplied from a large cylindrical tank mounted transversely across the tractive unit behind the cab.