311/IS, ASPHALT, AMEYS-and AUSTIN
21st August 1959
Page 53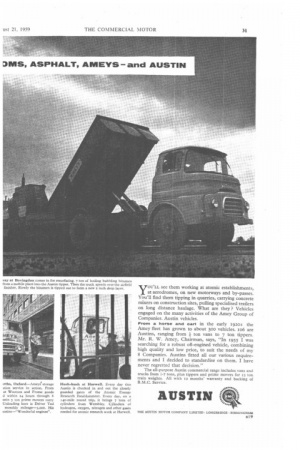 Page 53, 21st August 1959 —
311/IS, ASPHALT, AMEYS-and AUSTIN
Close
you'LL see them working at atomic establishments, at aerodromes, on new motorways and by-passes. You'll find them tipping in quarries, carrying concrete mixers on construction sites, pulling specialised trailers on long distance haulage. What are they ? Vehicles engaged on the many activities of the Amey Group of Companies. Austin vehicles.
From a hors* and cad in the early 1920s the Amey fleet has grown to about 300 vehicles. 106 are Austins, ranging from ton vans to 7 ton tippers. Mr. R. W. Amey, Chairman, says, "In 1955 I was searching for a robust oft-engined vehicle, combining high quality and low price, to suit the needs of my 8 Companies. Austins fitted all our various requirements and I decided to standardise on them. I have never regretted that decision."
The all-purpose Austin commercial range includes vans and trucks from 1-7 tons, plus tippers and prime movers for 55 ton train weights. All with 12 months' warranty and backing of B.M.C. Service.
AUSTIN