Anti-freeze Can Aggravate Engine Corrosion
21st August 1959
Page 49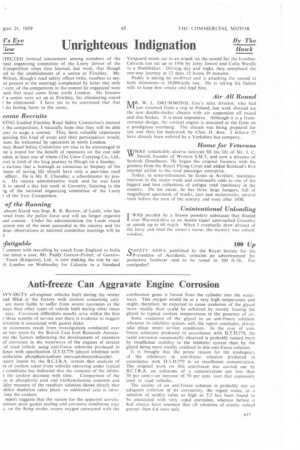 Page 49, 21st August 1959 —
Anti-freeze Can Aggravate Engine Corrosion
Close
WY-DUTY oil-crigined vehicles built during the winter and filled at the factory with coolant containing antiare more liable to suffer from severe corrosion in the vays than other types of vehicle built during other times , year. Corrosion difficulties usually arise within the first r three months of service and there is evidence to suggest orrosion is associated with gasket leaks.
se statements result from investigations conducted over ist two years by the British Cast Iron Research Associanto the factors influencing the development of excessive of corrosion in the waterways of the engines of certain of road vehicle using anti-freeze solutions produced in lance with specification D.T.D.779 (glycol inhibited with .nolamine phosphate/sodium mercaptobenzothiazole), eport issued by the 13.C.I.R.A. reveals that analysis of es of coolant taken from vehicles operating under typical e conditions has indicated that the contents of the inhibi I the coolant decrease with time. Comparison of the .se in phosphoric acid and triethanolamine contents and idity measure of the resultant solution shows clearly that tibitor depletion takes place, so additional acid is introinto the coolant.
report suggests that the reason for the apparent correlaetween poor gasket scaling and corrosive conditions may .t, on the firing stroke, excess oxygen associated with the combustion gases is forced from the cylinder into the waterways. This oxygen would be at a very high temperature and might, therefore, be expected to cause oxidation of the glycol more readily than could be achieved by merely heating the glycol to typical coolant temperatures in the presence of air.'
Some oxidation of the glycol in an anti-freeze solution. whatever its inhibitor system, will, the report concludes, always take place under service conditions. In the case of antifreeze solutions produced in accordance with D.T.D.779, the rapid corrosion occasionally observed is probably caused more by insufficient stability in the inhibitor system than by the glycol being more readily oxidized in this anti-freeze solution.
It is thought that the prime reason for the inadequacy of the inhibitors in anti-freeze solution produced in accordance with Dri.D.779 is an insufficient concentration, The original work on this anti-freeze was carried out by B.C.T.R.A. on solutions of a concentration not less than 30 per cent.—an increase of 50 per cent, over that commonly usedin road vehicles.
The acidity of an anti-freeze solution is probably not an adequate criterion of its corrosivity, the report states, as a solution of acidity value as high as 7.5 has been found to be associated with very rapid corrosion, whereas before it had always been assumed that all solutions of acidity valued greater than 6.4 were safe.