wards by Institute of Transport'
21st August 1959
Page 43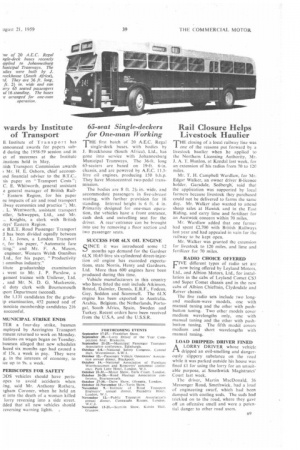 Page 43, 21st August 1959 —
wards by Institute of Transport'
Close
E Institute of Transport has innounced awards for papers sub
d during the 1958-59 session and in ct of successes at the Institute inations held in May. Lash Transport Commission awards Mr. IL E. Osborn, chief accounttd financial adviser to the B.T.C., is paper on "Transport Costs"; C. E. Whitworth, general assistant e general manager of British Rail' Eastern Region, for his paper se impacts of air and road transport ilway economics and practice "; Mr. . L. Wentworth, assistant transport oiler, Schweppes, Ltd., and Mr. — Knights, a clerk with British rays' Eastern Region. e B.E.T. Road Passenger Transport has been divided equally between J. L. Jones, a London Transport r, for his paper, "Automatic fare :ting," and Mr. F. A. Mason, engineer, Western Welsh Omnibus Ltd., for his paper, "Productivity omnibus industry." titute graduateship examination ; went to Mr. J. P. Parslow, a gement trainee with Unilever, Ltd. , and Mr. N. D. G. Mackenzie, ti duty clerk with Bournemouth ;port Department (second). the 1,131 candidates for the graduip examination, 452 passed and of ssociate membership candidates 216 successful.
MUNICIPAL STRIKE ENDS
TER a four-day strike, busmen mployed by Accrington Transport rtment returned to work on Monday. tiations on wages began on Tuesday. busmen alleged that new schedules luced six months ago had caused a A 15s. a week in pay. They were g, in the interests of economy, to ice up to 9s. a week.
PERISCOPES FOR SAFETY
DDS vehicles should have penisapes to avoid accidents when ing, said Mr. Anthony Rothera, igham Coroner, when he held an st into the death of a woman killed lorry reversing into a side street. tided that all new vehicles should reversing warning lights.