Rail Closure Helps Livestock Haulier THE closin g of a local
21st August 1959
Page 43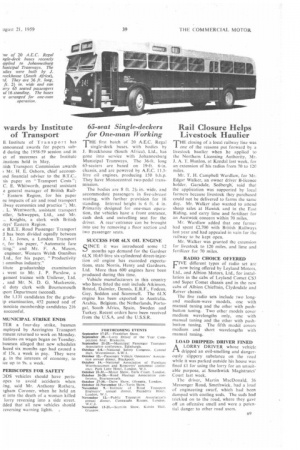 Page 43, 21st August 1959 —
Rail Closure Helps Livestock Haulier THE closin g of a local
Close
railway line was I one of the reasons put forward by a livestock haulier when he applied to the Northern Licensing Authority, Mr.
J. A. Hanlon, at Kendal last week, for an extension of his radius from 70 to 120 miles.
Mr. T. H. Campbell Wardlaw, for Mr. Edgar Walker. an owner driver B-licence holder, Garsdale, Sedbergh, said that the application was supported by local farmers because livestock they purchased could not be delivered to farms the same day. Mr. Walker also wanted to attend sheep sales at Hawick and in the Fast Riding, and carry lime and fertilizer for an Austwick concern within 70 miles.
Mr. Wardlaw added that one farmer bad spent £2,700 with British Railways last year and had appealed in vain for the railway to be kept open.
Mr. Walker was granted the extension for livestock to 120 miles, and lime and fertilizer for 70 miles.
RADIO CHOICE OFFERED
FlVE different types of radio set are now being offered by Leyland Motors. Ltd.. and Albion Motors, Ltd., for installation in the cabs of Leyland Comet CS3 and Super Comet chassis and in the new cabs of Albion Chieftain, Clydesdale and Reiver chassis. The five radio sets include two longand medium-wave models, one with manual tuning and the other with pushbutton tuning. Two other models cover medium wavelengths only, one with manual tuning and the other with pushbutton tuning. The fifth model covers medium and short wavelengths with manual tuning.
ALORRY DRIVER whose vehicle dripped an evil-smelling and dangerously slippery substance on the road while it was parked outside his house was fined for using the lorry for an unsuitable purpose, at Smethwick Magistrates' Court last week. The driver, Martin MacDonald, 36 Messenger Road, Smethwick. had a load of engineering swarf, which had been damped with cooling suds. The suds had trickled on to the road, where they gave off an offensive smell and were a potential danger to other road users.