Micrograms. • • Change of Address: On Monday F. H.
21st August 1959
Page 41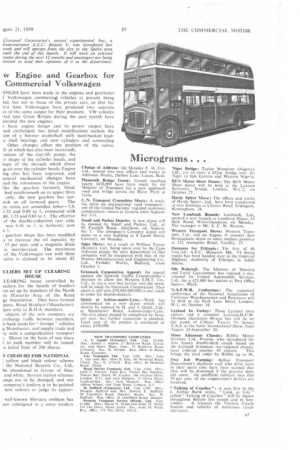 Page 41, 21st August 1959 —
Micrograms. • • Change of Address: On Monday F. H.
Close
Eve, Ltd., moved into new offices and works at Adamant Works, Dal low Lane, Luton, Beds.
Plymouth Bridgo Grant: Grants totalling nearly £478,000 have been made by the Minister of Transport for a new approach road and bridge across the River Plym at Laira.
U.N. Transport Committee Meets: A working party on international road transport— one of the United Nations' regional economic commissions—meets at Geneva from September 7,11.
Small and Parkes Depots: A new depot will be opened by Small and Parkes, Ltd.. at 92 Foothill Road, Aberdeen. on September 7. The company's Coventry depot will move to a new building at 8 Lamb Street, Coventry, on Monday.
Sales Move: As a result of William Turner (Kismet), Ltd., being taken over by the Cape Asbestos group, the sales department of that company will be integrated with that of the Weaver Manufacturing and Engineering Co., Ltd., Fenlake Works, Bedford, from October 1.
Greenock Corporation Appeal: An appeal against the Scottish Traffic Commissioner's decision to allow the ,Western S.M.T. Co., Ltd.. to run a new bus service into the town. will be made by Greenock Corporation. They claim it will cost £70,000-£80,000 w put roads in order for double-deckers.
Quick at Ashton-under-Lyne,—Work has commenced on a new depot which will shortly be opened by H. and J. Quick, Ltd.. at Manchester Road, Ashton-under-Lyne. The first phase should be cermpleted by Joon-ary next. but further expansion is planned. Total cost of the project is estimated at about £100,000. Niger Bridge: Taylor Woodrow (Nigeria), Ltd., are to erect a £51m. bridge over the Niger to fink Eastern and Western Nigeria, BEN Motor Show Dance: The BEN Motor Show dance will be held at the Lyceum Ballroom, Strand, London, W.C.2, on October 27..
Hardy Spicer Move: The offices and works of Hardy Spicer, Ltd.' have been transferred to new premises at Chester Road, Erdington, Birmingham, 24.
New Lombank Branch: Lombank, Ltd., opened a new branch at Lombard House, 63 Bath Road, Wolverhampton, on Monday. The manager is Mr. S. F. W. Walton.
Western Transport Move: Western Transport. Ltd., will on August 31 transfer their Birmingham depot to more modem premises at 152 Amington Road. Yardley, 25.
Dumpers for Ethiopia: The first of 40 5-cu.-yd. A.E.C. Monarch Mk. VI dump trucks has been handed over to the Imperial Highway Authority of Ethiopia in Addis Ababa.
Site Rejected: The Ministry of Housing and Local Government has rejected a site, selected by United Automobile Services, Ltd.. for a £25,000 bus station at Post Office Square, Blyth.
N.A.F.W.R, Conference: The autumnal conference of the National Association of Furniture Warehousemen and Removers will be held at the Park Lane Hotel, London, W.1, on October 14.
Leyland In Turkey: Three Leyland lorry chassis arid a complete Leyland-M.C.W. Olympic chassisless 44-seat bus will be on the stand of Cifkurt Ticaret Ve Sanayi T.A.S. at the Ismir International Show, from August 20-September 20.
More Adantean Chassis: Ribble Motor Services, Ltd., Preston, who introduced the first luxury double-deck coach based on the Leyland Atlantean rear-engined chassis, have ordered another 45 chassis. This brings the total order by Ribble up to 96.
Two Job Warning: Belfast Transport Department's platform staff who drive taxis in their spare time have been warned that they will be dismissed if the practice does not cease. An unofficial estimate says that 70 per cent, of the coeporation's drivers are involved.
Talking of Coaches": A new film in the J. Arthur Rank series, " Look at Life" called "Talking of Coaches" will be shown throughout Britain this month and in Sep
tember. It features the Victoria Coach Station and vehicles of numerous coach operators.