New Tunnel Approach Road to be Started
21st August 1959
Page 38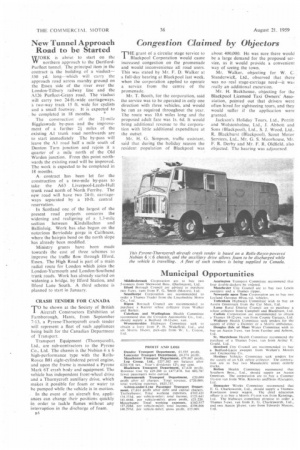 Page 38, 21st August 1959 —
New Tunnel Approach Road to be Started
Close
WORK is about to start on the northern approach to the DartfordPurfleet tunnel. The principal item in the contract is the building of a viaduct330 yd. long—which will carry the approach road across marshy ground on the Essex side of the river over the London-Tilbury railway line and the A126 Purfleet-Crays road. The viaduct will carry two 24-ft-wide carriageways. .a two-way track 15 ft. wide for cyclists and a small footway. It is expected to be completed in 18 months.
The construction of the 24-mile Biggleswade by-pass and the improvement of a further 2-; miles of the existing Al trunk road northwards arc to start immediately The by-pass will leave the Al road half a mile south of Denton Turn junction and rejoin it a quarter of a mile' north of the Old Warden junction. From this point northwards the existing road will be improved. The work is expected to be completed in 18 months.
A contract has been let for the construction of a two-mile by-pass to take the A63 Liverpool-Leeds-Hull trunk road north of North Ferriby. The new road will have two 24-ft. carriageways separated by a 10-ft. central reservation.
In Scotland one of the largest of the present road projects concerns the widening and realigning of a. I.3-mile section between Kindallachan and Ballinluig. Work has also begun on the notorious Berriedale gorge in Caithness, where the hairpin bend on the north slope has already been modified.
Ministry grants have been made towards the cost of three schemes to improve the traffic flow through Ilford, Essex. The High Road is part of a main radial route for London which joins the London-Yarmouth and London-Southend trunk roads. Work has already started on widening a bridge, by Ilford Station, and Ilford Lane South. A third scheme is planned to start in January,
•
CRASH TENDER FOR CANADA
TO be shown at the Society of British Aircraft Constructors Exhibition at Farnborough, Hants, from September 7-13, a Pyrene-Thornycroft crash tender will represent a fleet of such appliances being built for the Canadian Department of Transport.
Transport Equipment (Thornycroft), Ltd.. are sub-contractors to the Pyrene Co., Ltd. The chassis is the Nubian 6 x 6 high-performance type with the RollsRoyce B81 eight-cylindered petrol engine, and upon the frame is mounted a Pyrene Mark 6T crash body and equipment. The vehicle has independent front-wheel drive and a Thornycroft auxiliary drive, which makes it possible for foam or water to be pumped while the vehicle is in motion. . In the event of an aircraft fire, appliances can change their positions quickly in order to tackle flames without any interruption in the discharge of foam.
n4