Municipal Opportunities
21st August 1959
Page 38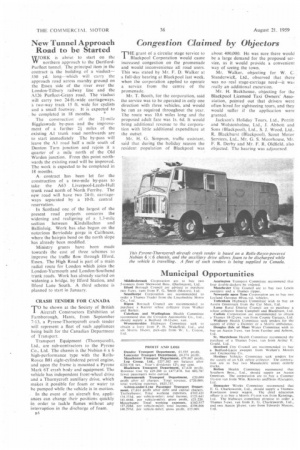 Page 38, 21st August 1959 —
Municipal Opportunities
Close
Middlesbrough Corporation are to buy two 5-tonners from Sherwood Enos. (Darlington). Lid.
Ilford Borough Council arc advised to purchase two 5-cwt. vans from F. G. Smith (Motors). Ltd.
Scunthorpe Corporation are recommended to order a "thaws Trader from the Lincolnshire Motor Co., Ltd.
Ripon PAFTOLIgh Council are recommended to purchase a Kairier refuse collector from Walker and Barker,
Caterham and Wailingham Health Committee recommend that the Croydon Automobile Co., Ltd.. should supply a Bedford 10-12-cwt. van.
Worcestershire Highways Committee seek to obtain a lorry from P. H. Wakefield, Ltd., and six Morris 10-cwr, pick-tips from W. L. Cotton, Ltd.
Accrington Transport Committee recommend that four doubte-deckers be ordered.
Manchester City Council are to buy two Lewin sweepers and a .1barnes tipper.
Newcastle upon Tyne Corporation arc to buy two Leyland Octopus 40-cu.-yd. vehicles.
Tottenham Highways Committee wish to buy ars Austin Ornnitruck from the Car Mart, Ltd.
Larne Rural District Council are to purchase a refuse collector from Campbell and Blackburn, Ltd.
Carlisle Corporation arc recommended to obtain a Thames 10-12-cwt, van from County Garages, Ltd,
Wallasey Health Committee seek tenders for the supply of either a Daimler or a Morris ambulanoe.
Douglas (Isle of Man) Water Committee wish to buy an Austin 5-cwt. van from l'argher and Ashton, Ltd.
St. Mary!damn Health Committee recommend the purchase of a Thames 5-c-a.t. van from Arthur E. Gould, Ltd.
Hereford City Council are recommended to buy a Bcdford-Lacre sweeper from Walker's Motors and Engineering Co.
Hastings Vehicles Committee seek tenders for Ilic supply of an S.D. refuse collector. The corporation are to buy two Manulectric street orderly trucks.
Bolton Health Committee recommend that Southern Bros., Ltd., should supply an Austin (Minivan. The corporation are to buy a Commcr 14-ton van from Wm. Knowles andilSons (Garages). Ltd.
Doncaster Works Committee recommend that E. G. Charlesworth. Ltd., should supply a ThamesRawlinson tower wagon. The chief education officer is to buy a Morris lifvton van from Kennings., Ltd. The highways committee propose to order a Thames 5-cwt. van from E. a. Chariesworth. Ltd., and two Austin i0-cwt. sans from Fdwards Motors,
td.
Tags
Organisations
:
Worcestershire Highways Committee
,
Ltd. Ripon PAFTOLIgh Council
,
Tottenham Highways Committee
,
Bolton Health Committee
,
Manchester City Council
,
St. Mary!damn Health Committee
,
Barker, Caterham and Wailingham Health Committee
,
Ltd. Larne Rural District Council
,
Ltd. Doncaster Works Committee
,
Ilford Borough Council
,
Water Committee
,
Ltd. Hereford City Council