Congestion Claimed by Objectors
21st August 1959
Page 38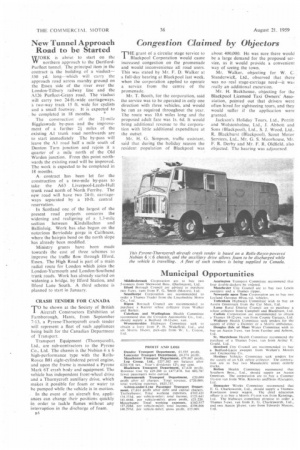 Page 38, 21st August 1959 —
Congestion Claimed by Objectors
Close
THE grant of a circular stage service to Blackpool Corporation Would cause increased congestion on the promenade and would inconvenience all road users. This was stated by Mr. F. D. Walker at a full-day hearing at Blackpool last week. when the corporation applied to operate a service from the centre of the promenade.
Mr. T. Booth, for the corporation, said the service was to be operated in only one direction with three vehicles, and would be run as required throughout the year. The route was 10.6 miles long and the proposed adult fare was Is 6d. It would bring additional revenue to the corporation with little additional expenditure at the outset.
Mr. H. G. Simpson, traffic assistant, said that during the holiday season the resident population of Blackpool was about 400,000. He was sure there would be a large demand for the proposed service, as it would provide a convenient way of seeing the town.
Mr. Walker. objecting for W. C. Standerwia, Ltd" observed that there was no real stage-carriage need—it was really an additional excursion.
Mr. H. Backhouse, objecting for the Blackpool Licensed Taxi Owners' Association, pointed out that drivers were often hired for sightseeing tours, and they would suffer if the application were granted.
Jackson's Holiday Tours, Ltd., Porritt and Wolstenholme, Ltd., J. Abbott and Sons (Blackpool), Ltd., S. .1. Wood, Ltd.. R. Blackhurst (Blackpool). Scout Motor Services. Ltd., Mr. G. S. Moorhouse, Mr. F. R. Derby and Mr. F. R. Oldfield, also objected. The hearing was adjourned.