Companies Appeal Over Ban on Smoking
21st August 1959
Page 37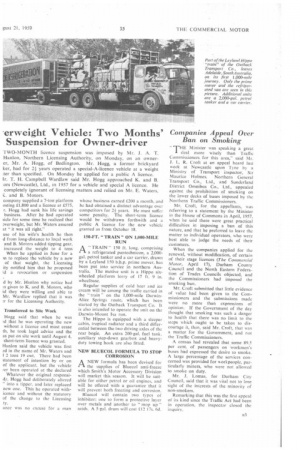 Page 37, 21st August 1959 —
Companies Appeal Over Ban on Smoking
Close
" 'THE Minister was speaking a great
deal more wisely than Traffic Commissioners for this area," said Mr. J. L. R. Croft at an appeal heard last week at Newcastle upon Tyne by a Ministry of Transport inspector, Sir Maurice Holmes. Northern General Transport Co., Ltd., and Sunderland District Omnibus Co., Ltd., appealed against the prohibition of smoking on the lower decks of buses imposed by the Northern Traffic Commissioners.
Mr. Croft, for the appellants, was referring to a statement by the Minister in the House of Commons in April, 1957, when he said there were great practical difficulties in imposing a ban of this nature, and that he preferred to leave thc matter to individual operators, who were best able to judge the needs of their customers.
When the companies applied for the renewal, without modification, of certain of their stage licences (The Commercial Motor,. April 17), Durham County Council and the North Eastern Federation of Trades Councils objected, and the Commissioners had imposed the smoking ban.
Mr. Croft submitted that little evidence of value had been given to the Cornmissioners and the submissions made were no more than expressions of opinion. If the Government of the day thought that smoking was such a danger to health that there was no limit to the steps which ought to be taken to discourage it, then, said Mr. Croft, that was a matter for the Government, and not the Traffic Commissioners.
A census had revealed that some 89.5 per cent. of passengers on workmen's buses had expressed the desire to smoke. A large percentage of the services concerned was provided for workpeople, particularly miners, who were not allowed to smoke on duty..
Mr. J. Lomas, for Durham City Council, said that it was vital not to lose sight of the interests of the minority of non-smokers.
Remarking that this was the first appeal of its kind since the Traffic Act had been in operation, the inspeciw closed the inquiry.